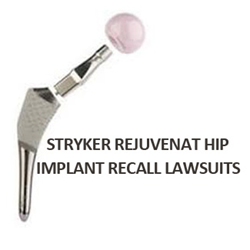 If you've suffered complications from the Stryker Hip Implant and would like more information on the settlement contact Wright & Schulte by calling 1-800-399-0795 or visit yourlegalhelp.com
Columbus, OH (PRWEB) November 04, 2014
The product liability lawyers at Wright & Schulte who are representing numerous clients in Stryker hip implant lawsuits are reporting that a settlement has been reached to resolve more than 3,000 Stryker hip lawsuits pending in New Jersey's Bergen County Superior Court (In Re: Stryker Rejuvenate Hip Stem and the ABG II Modular Hip Stem Litigation, No. 296) and U.S. District Court, District of Minnesota (In Re: Stryker Rejuvenate and ABG II Hip Implant Products Liability Litigation, MDL No. 2441)
Wright & Schulte LLC further reports, Superior Court Judge Brian R. Martinotti announced the blanket settlement agreement involving a minimum of $1.43 Billion, in New Jersey's Bergen County Superior Court today. Judge Martinotti is managing the Stryker Rejuvenate Hip Stem and the ABG II Modular-Neck Hip Stem litigation. It was announced that Howmedica Osteonics Corporation, a Mahwah, N.J., corporation, doing business as Stryker Orthopedics, will pay a base award of $300,000 per failed implant, with additional compensation available to those who suffered complications during revision surgery to remove the hip implant.
Wright & Schulte LLC notes stipulations involved in the settlement require claimants to be U.S. citizens or residents who have had both a surgery to implant the hip replacement device and then to remove the device and was performed at a hospital in the U.S. or a U.S. military hospital. Additionally, the hip revision surgery would have had to be performed before today's settlement of November 3, 2014. Recipients of the Rejuvenate Modular-Neck Hip Stem and/or ABG II Modular-Neck Hip Stem who are still facing revision can contact the attorneys at Wright & Schulte LLC to see if they fall under another compensation program.
The Stryker hip implant lawsuits were filed on behalf of men and women who received the Rejuvenate and ABG II Modular-Neck Hip Stems and allege the hip implants cause tissue damage, metal poisoning, degeneration of bone tissue and other serious health complications. The Stryker hip lawsuits contend that the medical devices are defective and many patients required revision surgery to remove their Stryker artificial hip implant while other patients will likely need revision surgery in the future.
Stryker recalled its Rejuvenate and ABG II Modular-Neck Hip Stems in July 2012 due to the potential of the medical devices to fret and corrode at the modular-neck junction. In its explanation for the recall, Stryker said the neck components of the Rejuvenate and ABG II are made of chromium and cobalt, and the stems are coated with titanium. According to Stryker, the neck components can wear against each other and create metallic debris, which is released into an implant recipient's tissue or bloodstream. The shedding of metallic debris can result in patients experiencing adverse local tissue reactions, swelling, pain and other problems, according to Stryker. Stryker recommended that surgeons consider performing blood work and imaging on their patients who received the recalled hip implant devices regardless of whether their patients are experiencing pain or swelling.
[literature.ortho.stryker.com/files/REJUV_COM_23.pdf] [literature.ortho.stryker.com/files/NL12_NA_HP_433.pdf]
About Wright & Schulte LLC
Wright & Schulte LLC, an experienced personal injury firm, is dedicated to the belief that America's legal system should work for the people. Every day, the attorneys of Wright & Schulte LLC stand up for the rights of people who have been injured or wronged and fight tirelessly to ensure that even the world's most powerful corporations take responsibility for their actions. If you're looking for a law firm that will guarantee the aggressive and personal representation you deserve, please do not hesitate to contact Wright & Schulte LLC today. Free Stryker Rejuvenate lawsuit and Stryker ABG II lawsuit case evaluations are available through yourlegalhelp.com or by calling 1-800-399-0795.
Contact:
Wright & Schulte LLC
812 East National Road
Vandalia, Ohio 45377
1-800-399-0795
http://www.yourlegalhelp.com
Like us on Facebook
Follow us on Twitter
Join us on Google+