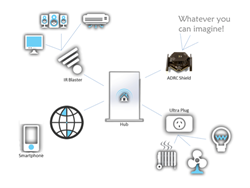 It has been developed in such a way that it will be affordable for the average Joe, not just kept for the wealthy
Adelaide, Australia (PRWEB) November 05, 2014
Imagine a simpler future where everyone can use their smartphones to control and monitor any type or brand of device in their home or office.
Well this has just become a reality as an Australian based company prepares to go into production of it's patented smart home device browser name DeB.
"There will be no need to have multiple apps or remotes to control all your appliances. Once your phone is connected you can manage everything from the palm of your hand." Said John Schultz, CEO of Xped.
"Not only that, but you can also monitor and control the power useage of each device from your phone. This is going to allow the average householder to cut their power bills considerably while knowing exactly what they are paying for." Mr Schultz continued.
The device uses near field communication (NFC) to connect a smartphone to any appliance by simply tapping the phone to the device. Once connected, consumers can control any connected device from anywhere in the world with an internet connection.
So whether people are at home or at the beach, they will know if the lights have been left on and have the ability to switch them off again.
Developers are also excited by this technology. Many companies are developing devices that can be connected to the Internet, forming the Internet of Things (IoT), however developing a smartphone app to control and connect a device via the internet requires a huge effort and is financially out of reach for most.
According to the founders, because this device is based around Arduino (like the Lego of electronics) it will make extra development for low-budget developers, hobbyists and even students affordable.
"Xped has invested the last 5 years and over 5 Million dollars in developing this product and now we are ready to put this into production. It has been developed in such a way that it will be affordable for the average Joe, not just kept for the wealthy." Mr Schultz revealed.
The first product in a line of many is currently being released on Kickstarter – an ADRC Shield for Arduino developers.
We have been assured this kickstarter campaign is just the beginning of many products from Xped that will change the way we lead our lives.
--------------------------------------------------------------------------------------------------------------------------------------------------------------
John Schultz is the CEO and Co-Founder of Xped Pty Ltd and has dedicated the last 5 years of his life to building world first technology designed to improve the quality of life for everyone. A Media Kit is available from http://www.xped.com/support/media-kit