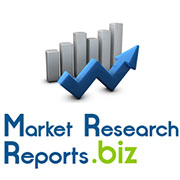 (PRWEB) November 04, 2014
TABLE OF CONTENTS
CHAPTER ONE: INTRODUCTION
1.1 Background to this Report
1.2 Objectives and Scope of this Report
1.3 Methodology of this Report
1.4 Plan of this Report
CHAPTER TWO: THE RISE OF TRANSPARENT DISPLAYS
2.1 What's Driving Needs for Transparent Displays
2.2 Three Transparent Display Technologies: LED, EL, and E-paper
2.3 A Note About E-paper
2.3.1 Work on Transparent E-paper
2.4 The Rise of LCDs-But Not for Transparent Displays?
2.4.1 Backlighting
2.4.2 Color filters
2.5 Caveat: The TFT Factor and Metallic Oxides
2.6 Reasons for Using Transparent TFTs Besides Transparency
2.7 Another Option: Ditch the Frontplane
2.8 Opportunities for Technology Providers in the Transparent Display Market
2.9: Key Points from this Chapter
View Full Report at http://www.marketresearchreports.biz/analysis/227926
CHAPTER THREE: ENTER THE TRANSPARENT OLED
3.1 Life Without BLUs and Color Filters
3.2 Technical Problems to Overcome
3.3 Encapsulation for OLED Displays: Problems and Solutions
3.3.1 Encapsulation Techniques
3.4 Business Problems for Transparent OLEDs to Overcome
3.5 Ace in the Hole: Alternative Transparent Conductors
3.5.1 ITO Now, But Not Forever
3.5.2 New TCs for Transparent OLEDs
3.5.3 Conductive Polymers in OLEDs
CHAPTER FOUR: END MARKETS FOR TRANSPARENT OLED DISPLAYS
4.1 Mobile Applications
4.1.1 Current limitations on fully transparent cell-phone displays
4.1.2 Examples of Transparent OLED Cell Phones
4.1.3 The Future of Transparent Displays in Tablets
4.1.4 Laptops and Notebooks
4.2 Wearable Computing and OLEDs
4.2.1 Heads-up/Head-Mounted Displays
4.2.2 Display Trends in Smart Glasses
4.2.3 Drawback to OLED Displays in Smart Glasses
4.2.4 Smart Glasses Companies Associated with OLEDs
4.2.5 Smart Watches
4.3 Retail Applications: Smaller Addressable Markets, but More Certain?
4.3.1 Touch-screen Technology in Transparent Displays
4.3.2 Key limitations of transparent displays in retail
4.4 Transparent Displays in Automotive
4.4.1 In-Windshield Displays
4.4.2 Dashboard Heads-Up Displays
Download Detail Report With Complete TOC at http://www.marketresearchreports.biz/sample/sample/227926
There are technical complications in making LCDs transparent. Thus the display industry is gradually shifting to organic light emitting diode (OLED) technology, which is easier to turn into transparent displays than the dominant LCD technology. Extensive coverage of transparent display technology, suppliers and end markets. It studies the emergence of transparent OLED displays, technical and marketplace challenges, end-application opportunities, and key companies to watch. Eight-year market projections are provided for these various applications, with both revenue and volume estimation
Related Reports
OLED Lighting Opportunities 2014-2025: Forecasts, Technologies, Players
View Full Report at http://www.marketresearchreports.biz/analysis/220169
OLED and LED lighting are both solid-state technologies and offer overlapping value propositions per market segment. They will therefore compete directly in many instances. LED lighting has come a long way and offers a better performance than OLEDs, and that at a lower cost. OLED lighting will therefore only gain market success if it clearly defines its unique selling points and carves out initial market niches.
Download Detail Report With Complete TOC at http://www.marketresearchreports.biz/sample/sample/220169
This report is divided into two parts: (a) technology and (b) market assessment. The first offers a comprehensive yet detailed overview of both LED and OLED lighting, going through fabrication processes, material compositions, technology roadmaps, and key players. The device attributes of each technology are also critically assessed, examining parameters such as colour warmth and controllability, flexibility, efficiency, surface emission, lifetime, wafer size, and luminaire design. The second section offers a blunt market assessment. Detailed cost projection roadmaps are developed, factoring in estimated cost evolution of the integrated substrates, encapsulation layers and materials. Changes in system configuration and material composition required to enable the cost roadmaps are outlined.
Ultra High Definition (UHD) Panel (4K) Market [By End-Use Applications - Televisions, Personal Computers, Smart Phones, Display Screens/Walls, And Others (Camera, Tablets, Notebooks); By Technology - LCD And LED (Includes OLED And AMOLED)] - Global Industry Analysis, Size, Share, Growth, Trends And Forecast, 2014 - 2020
View Full Report at http://www.marketresearchreports.biz/analysis/196267
Various display screen technologies existing in the market include light-emitting diode (LED), liquid-crystal display (LCD), high definition (HD) and full high definition. Ultra high definition (UHD) is a new display technology that has emerged in the market recently. The growing demand for UHD panels worldwide is mainly driven by increasing usage of UHD displays in commercial sectors such as government and corporate sectors, the retail and hospitality industries, and in public areas such as sports venues. The 4K UHD displays are expected to offer significant opportunities for the players in display technologies market by enabling product and service differentiation. UHD display has emerged as the successor technology of full high definition display. HD includes both 1080 pixels and 720 pixels whereas; UHD includes 8K (4320p) and 4K (2160p).
Download Detail Report With Complete TOC at http://www.marketresearchreports.biz/sample/sample/196267
Thus, UHD panels are offering significantly better resolution as compared to full high definition and thus are anticipated to find increasing use across various consumer electronics products including personal computers (PC), display screen/walls, televisions, smart phones and digital cameras, among others. The rapidly growing use of UHD TVs in media and broadcasting is aiding the growth of overall UHD panels market. The demand for UHD panels would be further boosted in the coming years as the prices are expected to come down.
About Us
Marketresearchreports.biz is the most comprehensive collection of market research reports. Marketresearchreports.biz services are especially designed to save time and money of our clients. We are a one stop solution for all your research needs, our main offerings are syndicated research reports, custom research, subscription access and consulting services. We serve all sizes and types of companies spanning across various industries.
Browse Blog at http://businessmonitorinternational.wordpress.com/