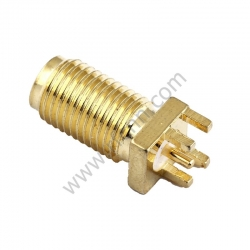 (PRWEB) November 04, 2014
Recently, LenoRF, China's leading electrical accessory supplier, has happily unveiled its new selection of Male SMA Connectors. Moreover, the company has also announced big discounts on these useful items; all these new products are now available at low rates, up to 30% off. According to the sales manager of the company, the promotion will end on November 15, 2014.
The company is offering a huge selection of Male SMA Connectors for customers from around the world. All its items are in stock and ready to ship anytime. LenoRF is one of the most distinguished connector wholesalers in the world, which is supported with lots of facts and figures.
"We are proud to launch the special offer on our newly released Male SMA Connectors. We want to expand our market share, and I think we can make it. As you know, more and more people like to buy things online now. At our website, worldwide distributors don't need to pay a barrel of money to get what they need," the CEO says.
For additional information, the Male SMA Connectors from the most reliable company come with plenty of characteristics: durable materials, meticulous production, easy use, outstanding practicality and so on. They are offered in many specifications; all of them are user-friendly products.
About LenoRF
LenoRF is a famous global manufacturer of coaxial connectors and cable assemblies. The company has been specializing in the industry for several years and it insists on providing effective turnkey solutions for radio frequency system. Its customers include worldwide OEMs, distributors and system integrators from various fields like broadcast, land-mobile, wireless communications, microwave market sectors and so on. For more information, readers can visit http://www.coaxial-connector.com/product/sma-connectors-male-for-rg-58-crimping/.