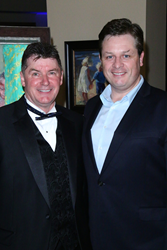 "During a night of giving, every drop matters and every dollar makes a difference" Nick Jordan Founder and CEO Wells of Life
Mission Viejo, CA (PRWEB) November 05, 2014
The 4th Annual Wells of Life Gala and Auction took place on Saturday, October 25, 2014 at the Mission Viejo Country Club with the Laguna Beach 501(c) (3) nonprofit - raising record-setting gross receipts in excess of $173,000. Guests enjoyed heavy hors d'oeuvres, a no host cocktail bar, silent and live auctions, and a stunning performance by world-renowned tenor Anthony Kearns.
Kearns, a member of the singing sensation, The Irish Tenors, made a special appearance at the gala as part of his role as National Ambassador for the Wells of Life nonprofit. Kearns performed for the sold-out crowd of more than 200 guests with a special selection of music chosen especially for the gala. In a poignant moment, Kearns dedicated an exceptional song, "I Believe," to the work Wells of Life is doing to help children in need. Wells of Life President Nick Jordan and Kearns hail from the same small village of Kiltealy in Country Wexford, Ireland – a circumstance denoting a strong bond, observed Jordan in his introduction of Kearns. Kearns also surprised everyone by offering a private performance for the live auction.
"I am delighted to participate in such an extraordinary evening for what is truly a remarkable and meaningful cause – providing fresh drinking water to the children of Uganda, East Africa", said Kearns, who also released a short, powerful public service announcement (PSA) in support of the organization.
During the VIP reception, a water well was dedicated to Bishop Tod Brown funded by the St Thomas More Society of Orange County. He was given a special oil painting by local artist Toni Danchik that depicted children getting the much-needed water that they so deserve. Board members Peter Callahan and Greg Weiler presented the Bishop with this significant piece of art.
The evening's featured video presentation showed the children of two countries – America and Uganda -- giving and receiving the gift of clean water. The children interviewed spoke freely from their heart about how raising money for building water wells for those in need has moved and changed their lives. After the video, some of the children in the video who were in attendance were called up to the stage and thanked for their tireless efforts.
The Martin Family from Rancho Santa Margarita was honored for their commitment to Wells of Life. Amber and Mike Martin, along with their six children, have already funded four wells and have a goal of funding at least seven more wells – one for each child and one for the family. With a moving surprise of the night, six-year old Eli Martin presented his check of $6,000 for his water well to Nick Jordan on behalf of Wells of Life, making this the Martin's fifth water well for Wells of Life.
Jordan was very excited about the evening, "Tonight, Wells of Life unites the world across two continents and shows the power of giving and receiving. During a night of giving, every drop matters and every dollar makes a difference. Our children inspire us to do what's necessary to bring clean water to those who need this precious resource."
Guests participated in a rousing live auction with items up for bidding that included a grand adventure in the Bahamas, wine and dinner for 8 at Mission Viejo Wine Works, a Champagne Sunset Cruise and picnic dinner for 6, two rounds of golf and 4 nights at the Exuma Beach Resort and a 8-week old puppy "Marshmallow", a Maltese mix.
VIPs who were in attendance were: The Hon. Consul General of Ireland Finbar Hill, Bishop Tod Brown (retired Orange Diocese), Wells of Life Board Members Patrick McCullagh, Michelle Jordan, Peter Callahan, Greg Weiler, David Linzmeier, Professor David Feldman, Peter H. Hlavin, Bill Cumming (Corporate Counsel) and Don Gilbert (operations manager).
Sponsors for the event include: Custom Comfort Mattress, Jordan Property Team at Regency Real Estate Brokers; Callahan, Thompson, Sherman and Caudill LLP; Cumming & Associates Law; 180 Business Solutions (Richard and Jennifer Lambright); British 4X4; Murphy, Murphy & Murphy, Inc. CPA; and Wine Works Mission Viejo.
For media inquiries and interviews about Wells of Life, please contact Kelly Bennett of Bennett Productions Unlimited, PR/Marketing/Branding Kelly(at)BPUnlimited(dot)com or 949.463.6383. For media inquiries and interviews for Mr. Kearns, please contact Kirsten Fedewa (on behalf of Anthony Kearns): 202.365.6936 or Kirsten(at)FedewaConsulting(dot)com.
Follow Wells of Life on Social Media at:
Facebook at https://www.facebook.com/pages/Wells-of-Life/124326379465
Twitter at @wellsoflife
YouTube at https://www.youtube.com/channel/UCMNRqInpOkpS2Ux_JEdmBJQ
About Wells of Life:
Wells of Life is a Laguna Beach, California based nonprofit organization that was founded in 2008 and incorporated as a 501(c) (3) in 2011 with the sole purpose of providing Ugandan communities with access to clean and safe drinking water. Wells of Life is committed to drilling wells and empowering Ugandan communities with the gift of water. To learn more about Wells of Life and how to get involved, visit http://www.wellsoflife.org.
About Anthony Kearns: Anthony Kearns first took the American television audience by storm in 1999 as the youngest member of The Irish Tenors, with whom he has five PBS Specials and 10 CDs. His solo career includes concerts, high-profile celebrity engagements, major television appearances, operas, and collaborations with some of the world's most renowned orchestras. Among his achievements, he has had the honor to perform for three U.S. Presidents. In fall 2013, Kearns released his first solo album, "With a Song in My Heart." Mr. Kearns' CD can be found at http://www.anthonykearnstenor.com.