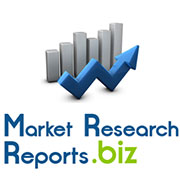 Albany, NY (PRWEB) November 04, 2014
The properties of metal oxide nanoparticles/ nanopowders/nanocrystals display enhanced electrical, optical, magnetic and chemical properties from the bulk material of which they are made. Most manufactured nanoparticles are available in varying sizes, shapes and as surface coatings. Their use will increase greatly in the next decade as they are manufactured in hundreds of thousands of tons for use in a diverse range of products in markets including consumer electronics, automobiles, aerospace, sporting goods, household cleaning, construction and medicine.
View Report at http://www.marketresearchreports.biz/analysis/228601
The report "The Global Market for Metal Oxide Nanoparticles to 2022″ covers the following nanoparticles:
Aluminium oxide
Antimony tin oxide
Bismuth oxide
Cerium oxide
Copper oxide
Iron oxide
Magnesium oxide
Manganese oxide
Nanosilver
Nickel
Silicon oxide
Titanium dioxide
Yttrium oxide
Zinc oxide
Zirconium oxide.
Download Detail Report at http://www.marketresearchreports.biz/sample/sample/228601
Report contents include:
Global production volumes of metal oxide nanoparticles, tons, to 2022, conservative and optimistic estimate
Consumption of metal oxide nanoparticles, by region
Applications of metal oxide nanoparticles-High volume, low volume and novel
Metal oxide nanoparticles price per KG, price per ton, estimated production total
Metal oxide nanoparticles company profiles
Related Reports
Nanosilver Market For Electrical & Electronics, Healthcare, Food & Beverages, Textile, Water Treatment And Other End-Use Industries - Global Industry Analysis, Size, Share, Growth, Trends And Forecast, 2014 - 2020
View Full Report at http://www.marketresearchreports.biz/analysis/225954
Increasing demand for nanosilver in consumer electronic products coupled with rising antimicrobial applications in medical and pharmaceutical industries is expected to drive the global nanosilver market between 2014 and 2020. Nanosilver is known for its small particle size, excellent conductivity, and thermal and antimicrobial properties. Hence, it is used in a variety of applications such as washing machines, water purifier, air purifier, hair dryer, socks, bedding, medical devices, drugs and food packaging. High cost of product over conventional silver and significant investment required in production technology are the major restraints of the market. However, niche applications in medical, pharmaceuticals, food & beverage and solar energy are likely to offer immense opportunities in the market in the near future.
Download Detail Report at http://www.marketresearchreports.biz/sample/sample/225954
This report provides a detailed view of the global nanosilver market by considering 2013 as the base year. It offers forecast of the global nanosilver market from 2014 to 2020. The report includes in-depth analysis of the global nanosilver market in terms of volume (Tons) and revenue (USD Million) from 2013 to 2020. It also comprises several tables and graphs that provide a detailed explanation of various facts and findings of the global nanosilver market. Various authenticated sources have been used to refine and provide a detailed and accurate research on the nanosilver market. Interviews with key industry leaders were conducted along with secondary research during the course of the study. Various governmental regulations and their effect on the nanosilver market were studied in detail. Secondary sources studied for the report include the Silver Institute, Silver Magazine, Australasian Science, and Asia Scientist.
Nanosilver Inks Market - Global Industry Analysis, Size, Share, Growth, Trends And Forecast 2014 - 2020
View Full Report at http://www.marketresearchreports.biz/analysis/223635
Nanosilver inks are printing materials, ideal for printing electronic devices on papers or plastics. Nanosilver ink products are ideal for low viscosity printing, flexographic, a feature of gravure, and inkjet printing. These products are specifically engineered for high volume printing techniques such as gravure, offset, and flexographic and are gaining interest to satisfy the demand of high throughput processes, even though they are not in competition with inkjet inks in terms of commercialization and development. As inkjet processing is suitable for high-resolution printing, it is considered as the primary area of focus for a large number of nanosilver ink products available in the industry.
Download Detail Report at http://www.marketresearchreports.biz/sample/toc/223635
Even though the price of printable nanosilver products is comparatively high in context to per weight unit bases, they still deliver a similar level of conductivity when compared with conventional materials, but with less number of materials. In addition, owing to its small size, nanosilver products eases up lower temperature sintering and intrinsically higher resolutions in printed patterns. Although nanosilver inks have been under development, these claims have however, not increased the consumption of printed nanosilver products on a large scale. Large scale companies such as Agfa-Gevaert N.V. are focusing towards developing innovative nanosilver products in the printing industry. The company recently developed a nanosilver ink SI-P1000x having a superior performance which would allow the users implement miniaturization and certain key applications as well as reduce the cost of the materials used.
About Us
Marketresearchreports.biz is the most comprehensive collection of market research reports. Marketresearchreports.biz services are especially designed to save time and money of our clients. We are a one stop solution for all your research needs, our main offerings are syndicated research reports, custom research, subscription access and consulting services. We serve all sizes and types of companies spanning across various industries.
Browse Blog at http://businessmonitorinternational.wordpress.com/