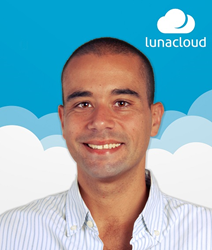 I am sure that this event will be a huge success for Lunacloud since it will have an incredible number of attendees and we will be able to share knowledge and interact with developers from around the world, in one place where wonderful things will happen.
(PRWEB UK) 5 November 2014
Now in its 5th year, Apps World has grown to be the leading global multi-platform event in the app industry. Following on from the success of the 2013 show, this year is set to be the biggest yet with over 300 exhibitors and over 12,000+ attendees across the app ecosystem including developers, mobile marketers, mobile operators, device manufacturers, platform owners and industry professionals registered for two days of high level insight and discussion.
The exhibition floor will be buzzing with some of the most innovative new start-ups showcasing alongside industry giants, live hackathons, interactive workshop sessions, parties and the return of the Appsters Awards.
For all concerned, people can find Lunacloud at booth 313 on the Exhibition Area. The entire Lunacloud staff will show the advantages that developers may have using cloud services, as well as enjoying a good time with multiple offers, surprises and good mood.
From all the speakers who will be at the stage, we highlight the company's CTO, Hugo Tavares who will speak on the first day of the event – Cloud World, 4:10pm. He will deal with how developers can effectively speed up their apps with the use of SSD performance type of hosting solution. Hugo Tavares is just one of the best and professional speakers who will be sharing his thoughts about cloud technology and back-end infrastructure.
Developers and mobile enthusiasts in general need to attend in this prestigious event in order to meet different apps developers at the same time sell some of their apps and solutions. This event will also provide a great opportunity to those developers to meet new faces of their potential partners and clients and build strong relationship with them. Apps World, will also provide people a perfect stage where they can launch their services and products to the mobile app industry. It also highlights innovative and effective ways on how developers will be connecting to their target audience and clients.
According to João Simões, Lunacloud's Marketing Manager "I am sure that this event will be a huge success for Lunacloud since it will have an incredible number of attendees and we will be able to share knowledge and interact with developers from around the world, in one place where wonderful things will happen."
To learn more about Apps World Europe 2014 and Lunacloud, feel free to visit them at http://www.lunacloud.com or https://www.apps-world.net/europe/