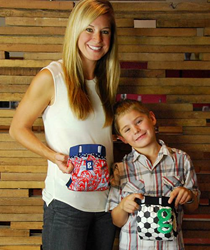 Gales Creek Camp provided us with a wonderful, like-minded family. Every child with a life-altering disease or disability should have this experience.
TIGARD, OREGON (PRWEB) November 04, 2014
gDiapers and Keagan Schnoor, a seven year old with Type 1 Diabetes, have launched a raffle give-away to benefit Gales Creek Camp, which was founded to provide a supportive community for children and teens with diabetes and their families. Keagan and his mother, Michelle, have created two original designs for the grand prize gDiapers. The raffle has just kicked off, and two winners will be announced on World Diabetes Day on Friday, November 14 at 2 p.m., PT.
gDiapers wanted to honor Michelle's eight year anniversary with the company and asked her to choose the raffle's beneficiary. Keagan was a "gBaby," the moniker given to babies and toddlers who sport the brand's unique diapers. Diagnosed with Type 1 Diabetes at 4 years old, Keagan was desperate to find other children he could relate with. He and his parents were thrilled to discover Gales Creek Camp. In addition to the young campers, many of the camp's staff also have diabetes and serve as role models. Now, at age 7, Keagan has become a young ambassador that educates others about diabetes and desires to give back to the camp that has given so much to him.
"Gales Creek Camp provided us with educational resources, tips from seasoned parents, and Keagan connected with other children who were getting shots, having fingers pricked and living with diabetes," said Michelle. "My son learned what to expect from interacting with other kids and camp staff. We became part of a wonderful, like-minded family. Every child with a life-altering disease or disability should have this experience."
"Michelle has been with us since the beginning and helped build this company from the ground up," said Kim Graham-Nye, Mum and Co-Founder of gDiapers. "We wanted to celebrate her eighth anniversary in a personal way that would allow our gCommunity to say thank you. Everyone can show their love and support for Michelle by buying raffle tickets to support this cause so close to her heart."
Keagan designed the Goal! gPants, inspired by his passion for soccer. Michelle designed the Gay Paree gPants, inspired by a business trip to Paris. There is only one of each of these gPant designs. Raffle tickets are $5 each and can be purchased on the Goal! and Gay Paree raffle pages from now through World Diabetes Day on Friday, November 14. The winners will be announced on the gDiapers website, blog, and Facebook page. All funds raised will help Gales Creek Camp continue to provide services and camp scholarships to kids with diabetes.
Learn more about the raffle details here.
About gDiapers:
gDiapers is redefining the diaper inside and out by giving parents the convenience of disposables and the confidence to build a better future. Our disposable inserts are Cradle-to-Cradle Certified (cm) Silver, flushable and break down in home compost. Our soft cotton gPants are designed to let baby's skin breathe and come in colors and prints that parents love. gDiapers was founded by Kim and Jason Graham-Nye in 2005. gDiapers are available across North American and Europe and have their headquarters in Portland, OR. gDiapers was the first consumer goods company to achieve Cradle-to-Cradle certification and has been a registered B-Corp since 2011.
About Gales Creek Camp:
The Gales Creek Camp Foundation is a 501(c)(3) nonprofit organization dedicated to providing camp experiences for children, youth and families directly affected by Type I diabetes. We are committed to fostering the transition toward independence by integrating the management of diabetes with social and life skills. Gales Creek Camp serves more than 400 children with diabetes each year. Gales Creek Camp is a place where children and teens gain confidence in managing their diabetes. Our goal is to help each child grow toward living an independent life. Campers learn to test themselves and give injections, how food and exercise are linked with insulin, and how sports, illness, and stress interact with diabetes. Learn more at http://www.galescreekcamp.org/home.