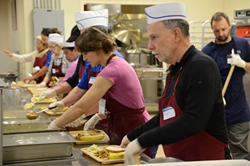 The holidays increase the needs of our nonprofit partners several times over and recruiting enough volunteers remains our organization's biggest challenge.
San Francisco, CA (PRWEB) November 05, 2014
Coming of Age:Bay Area believes that volunteering is a great way to spend one's time. It offers a chance for active engagement with others and the development of new skills, as well as an opportunity to help and support the surrounding community. In order to help Bay Area people 50+ find passion and purpose, Coming of Age:Bay Area has posted several upcoming volunteer events and opportunities on its website.
"Coming of Age:Bay Area promotes the volunteer listings of our dozens of Bay Area nonprofit partners, and completes the circle by matching our members' desires and capabilities with the specific needs of those nonprofits," said Eric Nelson, Interim Program Manager.
Over the next two months, Coming of Age:Bay Area will bring awareness to the surfeit of need that arises during the holidays. That need is evidenced by the sharp increase in volunteer postings on ComingOfAge.org/BayArea including providing companionship to seniors through SF Village, food service at St. Anthony's Foundation, Golden Gate Audubon dinners in Oakland and San Francisco, and a walk/run fundraiser on the Bay Bridge to help protect Bay Area bird habitats.
In addition, Coming of Age:Bay Area features several ongoing volunteer opportunities such as teaching basic computer skills to older adults, assisting victims of domestic violence, providing free counseling to Bay Area entrepreneurs, and helping students through the Jewish Coalition for Literacy, Reading Partners or WriterCoach Connection. With the assistance of the Coming of Age:Bay Area Talent Coach, people are matched to volunteer openings that suit their interests or would provide a challenging/rewarding experience.
Nationally, volunteering is on a downward trend. According to an article from the U.S. News and World Report, published earlier this year, Americans have been volunteering significantly less within the past year. As of September 2013, 25.4 percent of all Americans ages 16 and up had volunteered within the last year. This was the lowest rate of volunteerism in over a decade.
The Bureau of Labor Statistics also reported that volunteer rates for both men and women have declined, though women continue to volunteer at a higher rate than men.
Contrary to that national trend, Coming of Age:Bay Area has seen consistent interest in volunteering from its membership. According to the Corporation for National & Community Service, San Francisco had a higher volunteer rate than the national average in 2004, 2005 and 2006.
Coming of Age:Bay Area member feedback confirms those statistics, citing both a high level of awareness for volunteer need and enthusiastic participation. However, the holidays increase that need several times over and recruiting enough volunteers remains the organization's biggest challenge. For more information about Coming of Age:Bay Area's volunteer opportunities, visit http://comingofage.org/bayarea/volunteer-opportunities#.VFOjMjTF8Vh.
About the company:
Coming of Age:Bay Area celebrates the ability of all people age 50+ to continue to grow, transform their communities, and become a force for public good. The organization offers volunteer opportunities, workshops, educational events and one-on-one coaching. It is sponsored by Northern California Presbyterian Homes and Services (NCPHS) with additional funding provided by the Corporation for National & Community Service/RSVP Grant, other community grants and in partnership with KQED. For more information, please visit Coming of Age:Bay Area's website or Facebook page.