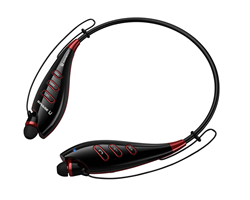 Rokit Boost SWAGE U Bluetooth Headphones Earns Rave Reviews
New York, NY (PRWEB) November 05, 2014
Since their introduction this summer, Rokit Boost's SWAGE U Bluetooth headset has emerged as a bestselling mobile accessory.
This popular item has steadily been gaining traction among mobile consumers everywhere as well as the online mobile user community. With a memory flex neck strap, magnetic earbuds, lightweight body, superior audio playback, and upgraded speaker units, the SWAGE U headphones offer a seamless listening experience and premium comfort. This carefully-engineered consumer electronics accessory stands out in a crowded marketplace with its easy operation, functionality, wearable design, and affordability.
The SWAGE U wireless headphones also come equipped with Bluetooth V4.0 technology. With this up-to-date wireless chipset, the headset is compatible with virtually any Bluetooth-enabled device. In recent months, it has been endorsed in multiple online reviews for its functionality, clever design, and ease-of-use.
Features Overview:

Wireless compatibility with the iPad, Samsung Galaxy, MacBooks, Kindle, and almost any other Bluetooth-enabled device
Lightweight and trouble-free, easily wearable design
Built-in microphone and hands-free dialing for easy, wireless communication
Comes with Bluetooth V4.0 chipset technology with APTx support
Provides up to 8 hours of playback time, and 100 hours of standby time per charge
High-performing speaker units that support higher frequency and sensitivity
Effortless operation with easy mode switching
Multipoint HFP Connection to 2 devices simultaneously
EQ for better sound control
Support Handsfree dialing e.g. Siri for iPhone ®
Titanium alloy Memory flex neck strap for extra comfort
What's the Word?
"I purchased three sets of stereo headphones almost identical to these and they are among my favorites. This pair of headphones is identical in performance, quality, and sound output but for about ½ of the price. These headphones weight about 1 ½ ounces and I wear them under my shirt collar and you can't even tell that they are there... Overall we like this headset and I would recommend it to you!"
− Amazon review by JJCEO, Top Amazon Reviewer
"These headphones sound really good and they're really comfortable... With these headphones, the ear buds are so comfortable. It's really light, not going to bother you, and easy to use. They have a nice, tactile feel, and have great functionality and value! There's a lot of things going for these headphone!"
− Lance Goss, mobile lifestyle reviewer (Watch review on YouTube)
"The SWAGE U stereo headphones are lightweight [and] comfortable, and [they] have exceptional sound. They have a built-in microphone for easy hands-free communication and dialing through Siri, magnetic earbuds, and a memory flex neck strap."
− Chic Luxuries Stocking Stuffers Featured Item 2014
Availability
The SWAGE U wireless headphones can be purchased at rokitboost.com and Rokit Boost's Amazon store. For aesthetic concerns, they come in black and white color options. In line with today's mobile consumer expectations, the SWAGE U headphones are backed by a 1-year warranty. Rokit Boost also offers a 30-day money back guarantee on the product.
For more information, please visit http://www.rokitboost.com for more details.
About Rokit Boost
Rokit Boost is a pioneer of affordable, high-quality mobile accessories. Whether they are innovations including iPhone charger cases, Bluetooth headphones, or wireless Bluetooth speakers/microphones, Rokit Boost's team seeks to add substantial enhancements to great existing products. The company also offers a refurbishment program of certified products for exceptional customer value, at reduced pricing.