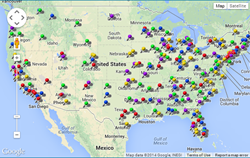 Atlanta, GA (PRWEB) November 05, 2014
A-1 Express, a recognized leader in same-day delivery, messenger and distribution services, announces major city listings for courier services nationwide. The courier service makes the announcement in an effort to expand its current customer base and market itself as a same-day delivery provider that can service any company with multiple locations throughout the US. A-1 Express strives to be the best choice for courier logistic services and solutions nationwide.
A-1 Express has a major city listing on the home page of its comprehensive website easily accessible to any company to view all the major cities the courier services. The list includes metro-area cities that the courier has coverage for as well. Located at the bottom of the home page are all the major cities listed as actual links that customers can click on, and within it, see listed the other metro services areas. For example, the New York city page has listed within it other New York area cities
Customers can generate quick online same-day delivery quotes and customer support form requests for their respective major US cities. The courier company also has its customer service specialists available to assist with specific quotes, volume location quotes and perform city coverage area confirmations. Customers are recommended to contact A-1 Express for any questionable service areas not listed within the A-1 Express city listing. Some areas may require special quotes in which can be created manually upon confirming that services are offered in close proximity.
The US cities the Charlotte courier are strategically established to meet individual, online business and large corporation needs. A-1 Express is a one-stop source for small business and large corporations to provide dynamic courier service solutions for same-day delivery. Any company with multiple locations can partner with A-1 Express as same-day delivery continues to assist in e-commerce growth.
A-1 Express is a recognized leading same-day courier for same-day delivery, transportation and distribution services. A-1 Express manages a growing list of 1,500 clients nationwide and takes great pride in providing the highest level of courier services. From individuals to Fortune 500 Companies, A-1 Express has the logistical expertise to create courier solutions and on-time delivery execution. A-1 Express pursues to utilize the best in modern, courier technology to be the premier courier service provider throughout the United States.