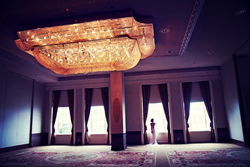 (PRWEB) November 04, 2014
Winter may be the wedding industry's off-season, but the remarkable natural landscape of Niagara Falls in winter provides a uniquely dazzling setting for weddings and banquets. The 20-acre Falls Avenue Resort, located directly across the street from the Niagara Falls, offers the Sheraton on the Falls and Crowne Plaza Niagara Falls-Fallsview as beautiful indoor venues for extraordinary winter weddings.
With winding staircases, sparkling chandeliers, and the beautiful landscape of Niagara Falls, both the Sheraton on the Falls and Crowne Plaza Niagara Falls-Fallsview offer a spectacular backdrop for ceremonies, receptions, and photographs. Both venues also offer delicious seasonal catering options that can be specialized and tailored by a talented team of culinary experts.
"Niagara Falls in the wintertime provides a beautiful and unique atmosphere for weddings, and it's important to embrace the natural setting in order to create spectacular wedding experiences for groups of all sizes," says Sarah Vazquez, Vice President of Business Development and Marketing at Canadian Niagara Hotels Inc.
The two hotels offer over 900 guestrooms combined to accommodate reception guests, and feature romantic Fallsview suites with breathtaking views of the wintry Niagara Falls. The Christienne Fallsview Spa, located inside the Sheraton on the Falls, is also a romantic destination where couples can relax with an incredible view, while indulging in first-class spa treatments.
Niagara Falls becomes a wonderland in the winter season with the surrounding parks and trees illuminated with millions of sparkling lights. The charming atmosphere of the landscape combined with first-rate service and amenities at the Sheraton on the Falls and Crowne Plaza Niagara Falls-Fallsview are sure to enchant and create a memorable and everlasting wedding experience.
For more information visit http://www.niagarameetings.com/weddings or call (905) 374-4444 ext. 4203.
Falls Avenue Resort is a 20-acre entertainment complex in Niagara Falls, Ontario that features properties such as the Sheraton on the Falls, Crowne Plaza Niagara Falls-Fallsview, Hard Rock Café, Hershey's Chocolate World Niagara Falls, Casino Niagara, and Fallsview Indoor Waterpark. The Resort is home to 35 meeting rooms, 1,200 guestrooms, 12 restaurants, and numerous entertainment sites and attractions.