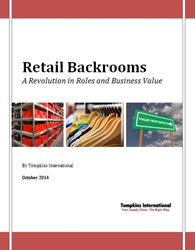 There has been little innovative thinking about these spaces, even as omnichannel operations permeate every retailer across the world.
RALEIGH, NC (PRWEB) November 04, 2014
What were once seen as a necessary evil, retail backrooms will soon be a key component to help retailers succeed in today's omnichannel environment. By leveraging their backrooms, retailers can take on new roles in the fulfillment network and offer innovative value-added services.
Tompkins International's new white paper, Retail Backrooms: A Revolution in Roles and Business Value, exposes a new way of thinking about backrooms and how companies can leverage them for increased value.
"There has been little innovative thinking about these spaces, even as omnichannel operations permeate every retailer across the world," said Jim Tompkins, CEO of Tompkins International. "No matter the size of the retailer, it is time to reevaluate the role and business value of backrooms, regardless of the product lines or markets."
When retail backrooms are reorganized and optimized under the supply chain or logistics functions, they offer several key capabilities, such as:

Improved floor/shelf service at lower costs
Optimization of inventory stock levels, which drives lower working capital
More efficient product storage and handling
Ability to enable new omnichannel needs such as ship-from-stores and click-and-collect
Ability to ship from stores with value-added services and packing functionality
Ability to increase efficiency and effectiveness of returns
More room for in-store picking, packing, shipping, and returns
The backroom has historically been a "holding place" for inventory, but optimizing the backroom for omnichannel allows it to be the closest stocking to customers and enable a "Get Local" supply chain.
Personalized omnichannel strategies will vary, but all retailers need to set a vision and strategy to get there. A successful customer experience is based on the entire personalized experience—from promotion and shopping, to buying and final delivery. Retail backrooms can have a major impact on final delivery responding to the needs of the customer.
"Backrooms have a new and open-ended mission to play into the new retail business model," Tompkins said. "Competing effectively in the new retail e-commerce space requires new thinking and new operational capabilities, and that starts with taking advantage of the retail backroom."
For more information and to download the full paper, click here.
About Tompkins International
Tompkins International is a supply chain consulting and implementation firm that maximizes supply chain performance and value creation. We enable clients to be more profitable and valuable, while also becoming more agile, flexible, and adaptive to the marketplace. Tompkins collaborates with client teams to develop improved operations strategies, supply chain planning, and execution across all the Mega Processes of supply chains (PLAN-BUY-MAKE-MOVE-DISTRIBUTE-SELL). Tompkins is headquartered in Raleigh, NC and has offices throughout North America and in Europe and Asia.
Twitter: @jimtompkins
LinkedIn: http://www.linkedin.com/company/tompkins-international
Creating Supply Chain Excellence Blog: http://www.tompkinsinc.com/category/blog/