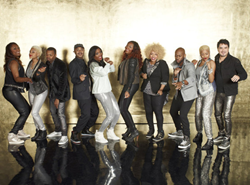 Atlanta, Ga. (PRWEB) November 04, 2014
The AMTC team will be searching for local talent in Waco, Texas and Birmingham, Ala. on Nov. 8 and 10, 2014. Professionals and amateurs, ages four and up are invited and welcome to participate in the free auditions.
Each audition is hosted by a scout who is both trained in spotting emerging talent and equipped to inspire performers to a higher calling in the world of entertainment. AMTC's scouts are industry professionals who believe in mentoring the next generation of upcoming artists. After this initial scouting event, select talent will be invited to participate in more intensive programs and training. Scouts for the two upcoming Nov. auditions will be John Montes(Waco) and Adam She (Birmingham).
John Montes, aka "Jontez," has spent well over a decade in entertainment. He began traveling with a band at age 12; lead worship with T.D. Jakes Ministries; was a member of Kirk Franklin's multi-platinum group, God's Property; and has worked with performers like Erykah Badu, Justin Timberlake, Ashley Simpson, and Frankie J. to name a few. In addition to being a vocalist and musical instructor, he served as the Director of the NFL Player's Gospel Choir who had the pleasure of opening up for Tim McGraw at the new Dallas Cowboys Stadium. He currently sings on the Marcus & Joni Show on the Daystar Network and is a member of NBC's group TEN from The Sing-Off.
AMTC's Executive Director Adam She is an international Christian leader whose goal is to find, prepare and lift God's talent to influential positions in the entertainment industry. He says, "Bad is bold in the entertainment industry, so good must be bolder." The organization believes that it is time for God's stars to stand up the stages of film, fashion, music and theatre, and AMTC is a launching pad for performers to become positive role models in every area of entertainment.
The organization has hundreds of successful artists and grads that are updated on their featured success stories: Evan Peters – X-Men, tWitch – Step Up, Abbie Cobb – Mom's Night Out, and tons more.
AMTC believes that it is time for God's stars to stand up on the stages of film, fashion, music and theater. Those interested can register for an audition at http://www.amtcworld.org.