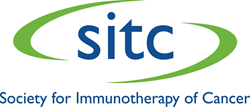 NATIONAL HARBOR, MD (PRWEB) November 04, 2014
Coinciding with Lung Cancer Awareness Month, encouraging data from clinical trials investigating two immunotherapies for non-small cell lung cancer (NSCLC) will be presented during the Society for Immunotherapy of Cancer (SITC) Annual Meeting & Associated Programs.
The latest clinical trial data on TG4010 and CCL21 gene modified dendritic cells will be discussed by John Nemunaitis, MD, and Jay M. Lee, MD, respectively, at a SITC Annual Meeting session focused on lung cancer and the use of immunotherapy.
"This is an exciting time as clinical trials are demonstrating that patients with advanced types of lung cancer are responding to treatment with immunotherapy using PD-1 targeted checkpoint inhibitors. This observation is changing the paradigm for tumor immunotherapy suggesting that this approach may be applicable to patients with other types of cancer and brings new options for patients dealing with lung cancer," said SITC Vice President Howard Kaufman, MD.
In a double-blind Phase 2b trial, TG4010 immunotherapy combined with chemotherapy was evaluated against a placebo plus chemotherapy in a group of over 200 patients with Stage IV MUC-1 positive NSCLC. Another aim of the trial was to further evaluate whether levels of a certain kind of immune cell called triple-positive activated lymphocytes (TrPAL) could be used as a predictive biomarker to select patients who would most benefit from being treated with a combination of TG4010 immunotherapy and chemotherapy. Patients were grouped by TrPAL levels—normal or high—and then the patients in each of these subgroups was randomized to receive either TG4010 immunotherapy combined with chemotherapy or a placebo plus chemotherapy.
TG4010 was found to significantly improve progression-free survival (PFS) in patients with non-squamous carcinoma, especially those who were in the three lowest quartiles for baseline TrPAL level. No relevant differences were observed in the frequency or severity of adverse events when comparing those who received TG4010 and those who received the placebo. Mild or moderate injection site reactions were the most frequent adverse events experienced with the TG4010. Stage IV NSCLC patients with low levels of TrPAL before treatment may respond most favorably to TG4010, which will be further studied in a phase 3 trial.
Another promising area of study when it comes to lung cancer and immunotherapy is the use of dendritic cells to evoke anti-tumor immune responses in the context of PD-L1 expression. In a phase 1, non-randomized, dose escalating, multi-cohort trial of 16 Stage IIIB/IV NSCLC patients, injecting CCL21 gene modified dendritic cells within tumors demonstrated anti-tumor responses that correlated with lower PD-L1 expression. Administering these dendritic cells also produced CD8 T cell infiltration into the tumor. While further clinical trials are needed, these are encouraging early results.
SITC recently released a video centered on the use of cancer immunotherapy for NSCLC, which makes up 85% to 90% of all lung cancer cases in the United States and claims more lives each year than colon, breast, and prostate cancers combined. "Non-Small Cell Lung Cancer Immunotherapy: A New Hope," follows a patient's journey from her diagnosis of NSCLC through the course of cancer immunotherapy treatment via a clinical trial. Through a white board animated format, this video provides information on how cancer immunotherapy works and discusses cancer immunotherapy clinical trials for patients with NSCLC. View the video at: http://www.sitcancer.org/hopefornsclc/assess-your-knowledge
The SITC 29th Annual Meeting & Associated Programs takes place November 6-9, 2014 at the Gaylord National Hotel & Convention Center in National Harbor, MD. Find more information at: http://www.eventscribe.com/2014/sitc/
About SITC
Founded in 1984, Society for Immunotherapy of Cancer (SITC) is a non-profit medical society dedicated to improving cancer patient outcomes by advancing the development, science and application of cancer immunotherapy through the core values of interaction, innovation and leadership. For more information on SITC, visit the Society website at: http://www.sitcancer.org.
###