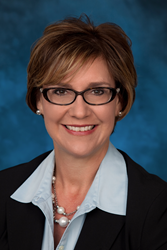 (Aurora, COLO USA) (PRWEB) November 07, 2014
This week, Graebel Relocation senior vice president of operations Bill Nemer CRP, GMS has announced that Beth Pasiak CRP, GMS has joined the global relocation firm as its vice president of operations and will manage the Company's Atlanta, Georgia center. Pasiak will report to Nemer and will be responsible for domestic U.S. relocation operations.
Pasiak has been in the global mobility industry for a quarter-century. For 17 years she held management and leadership roles with the east coast-based third party company Weichert Relocation Resources that is today named Weichert Workforce Mobility. Since 2012, as its vice president of global client services, Pasiak was responsible for the U.S. and global operations at the Cornerstone Relocation Group that is located in Basking Ridge, NJ. There, she led that organization's headquarter and service center workforce in the U.S. and EMEA region.
Pasiak attended Marymount College in Tarrytown, NY. She holds the Certified Relocation Professional® (CRP) and Global Mobility Specialist® (GMS) designations and is a member of the Worldwide ERC®.
Nemer stated, "I am very excited to have Beth join our leadership team here at Graebel Relocation. Her credentials, tenure in the global mobility industry and passion for servicing customers at the highest level make her a perfect fit for our organization."
About Graebel Companies, Inc.
Founded in 1950, Graebel is a privately-held global company that offers the entire suite of employee and commercial office relocation services for companies in the Global 100 and Fortune 500. On-the-ground services managed in 165 countries on six continents include full-service relocation and move management administration and consultancy, facility including specialized hospitality and healthcare relocation and workplace services. The world headquarters is located in Aurora, Colorado USA with in-region centers in the Americas, and the APAC and EMEA regions. Known for its industry-first innovations and customer-centric business practice, Graebel holds innumerable credentials, and has earned accolades from clients and from within its industry. To learn more visit: http://www.graebel.com.