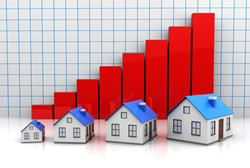 Slower home price growth can present an advantage for home buyers
Chicago, IL (PRWEB) November 04, 2014
The Federal Savings Bank is highlighting some market relief to its mortgage prospects that have been sidelined by rising home prices. The latest October 28th S&P/Case-Shiller Home Price Index report revealed only slight gains for prices in August.
The report, which is based on a three-month moving average, revealed the national and composite indices improved 0.2 percent in August compared to July. Year over year, the national index went up 5.1 percent. Both the 10- and 20-city composites fell short of July's 6.7 percent gain in August but went up 5.5 percent and 5.6 percent, respectively, compared to August 2013.
"The deceleration in home prices continues," said David Blitzer, chairman of the Index Committee at S&P Dow Jones Indices.
Blitzer went on to say other housing market data has performed well despite the deceleration of home prices.
"September figures for housing starts, permits and sales of existing homes were all up," he said. "Continued labor market gains, low interest rates and slower increases in home prices should support further improvements in housing."
Buyers to gain more leverage in the market
Slower home price growth can present an advantage for home buyers, particularly first-time home buyers. Zillow Chief Economist Stan Humphries said in a USA October 28 report that this shift will be welcome news following the seller's market that's held steady for years.
"More sedate home value growth, coupled with interest rates that remain incredibly low, will also help housing stay affordable, which is critical to drawing in the next generation of younger, first-time buyers that had been sitting on the sidelines," Humphries explained, according to the news source.
The economist's sentiment is in line with a recent report from Redfin that The Federal Savings Bank highlighted in a release titled "Buyers can capitalize as sellers lose confidence." Sellers are adjusting their prices as more inventory is providing additional options for buyers to spread out demand and easing price appreciation.
Where price growth is slowing the most
Commenting on the HPI data, Moody Analytics Economist Greg Bird said price growth has slowed the most in areas that didn't see a lot of investor activity in earlier parts of the housing recovery when many investors flipped distressed properties in large quantities, USA Today reported.
Blitzer pointed to cities in the Sun Belt as the ones with the lowest year-over-year price gains in August, including San Francisco, Los Angeles and San Diego, California. These cities had 9 percent, 6.8 percent and 6.2 percent yearly growth, respectively. Cleveland was the only city tracked by the HPI that didn't show a home price deceleration compared to August 2013. For the monthly comparison, Boston and Detroit were the only cities that didn't have slower price growth.
Consumers who are looking to a buy a home while prices are low can be assured the current pace of appreciation isn't cause for alarm, as Blitzer noted the national index posted its eighth consecutive yearly increase.
Contact the Federal Savings Bank, a veteran owned bank, for information about first-time home buyer programs that can help novice buyers get financing while price growth is cooling.