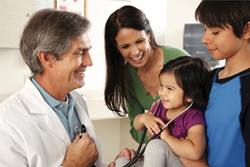 The easiest and most cost effective way for people to protect themselves from the flu is with a vaccine," said Dr. Catherine Palmier, Senior Medical Director for UnitedHealthcare of Florida.
Tampa, FL (PRWEB) November 06, 2014
School, football and changing weather – the classic signs of Fall are upon us, which means flu season has arrived as well.
Flu – influenza, formally – is a serious disease that can lead to hospitalization and sometimes even death. About 5 percent to 20 percent of U.S. residents get the flu each year, according to the U.S. Department of Health & Human Services.
The flu costs the United States more than $87 billion annually and is responsible for the loss of about 17 million workdays and substantial classroom time each flu season, according to the Centers for Disease Control and Prevention (CDC).
Unfortunately, the flu is not just a cause of missed work and school. Every year, thousands of people die from Influenza and its complications, and more than 100 of the victims this past year were children.
"The best way for people of all ages to protect themselves and reduce their chances of getting the flu is to get a flu vaccine," said Dr. Catherine Palmier, Senior Medical Director for UnitedHealthcare of Florida. "According to the CDC, everyone who is at least 6 months of age should get a flu vaccine. Getting vaccinated is especially important for people who have certain medical conditions such as asthma, diabetes or chronic lung disease, and for pregnant women, young children and people 65 and older," Dr. Palmier added.
Despite the evidence and recommendations, many people won't get vaccinated this year – which makes it more likely they will get and transmit the flu. That puts their personal health and well-being at risk, and it could increase the chances of family, friends, co-workers and neighbors getting sick, too.
Consider the following:
The flu shot is not expensive.
In most cases, the cost of a flu shot is covered by a health insurance plan, whether it's purchased personally or covered by an employer, Medicare or Medicaid. More employers are now offering free onsite flu shot clinics at the office. The financial and personal costs and the potential for missed days of work or school from the flu far exceed the cost of the vaccination.
Young, healthy people get the flu, too.
Influenza does not discriminate against age or health habits. Just because someone is young or doesn't typically get sick doesn't mean they can't catch the flu. People can catch the flu from someone who has yet to exhibit any signs or symptoms of being sick.
Getting the flu shot vaccine is fast, easy and convenient.
Getting a flu shot takes no more than five minutes. Most neighborhood pharmacies even offer walk-in options without an appointment. If someone is unemployed or an employer doesn't offer flu shots, flu vaccine options also include visiting primary care doctor or nearby wellness clinic. Most retail pharmacies also work with contracted flu shot providers. A list of flu shot providers by by location can be found at visit Flu.gov (http://www.flu.gov/prevention-vaccination/vaccination/index.html) and enter your zip code.
Take Preventive Measures
In addition to getting vaccinated, preventive measures like washing hands regularly help reduce the spread of germs. People should also be mindful of others and stay home from work or school if they get the flu.
"Flu activity typically begins to increase in October. People can protect themselves and their family by making their health a priority and getting a flu shot as soon as possible. If they do, they'll be more likely to enjoy the fall and holidays a little more," Dr. Palmieri added.
# # #