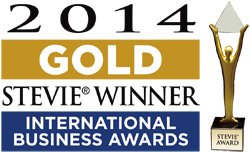 Chatham, ON (PRWEB) November 05, 2014
Inklyo.com, offering premium quality content on demand, was named the winner of a Gold Stevie Award in the Best Web Writing/Content category in The 11th Annual International Business Awards.
"We are thrilled to have received a Gold Stevie Award for Best Web Writing/Content for Inklyo.com," said Karen Ashford, Marketing Manager. "Our writers and support team work tirelessly to provide premium quality content on our site as well as to our clients. This award recognizes their hard work and exemplifies our leadership in this industry."
More than 3,500 nominations from organizations of all sizes and in virtually every industry were submitted this year for consideration in a wide range of categories. The world's premier business awards program received entries from more than 60 nations and territories. Stevie Award winners were selected by more than 250 executives worldwide who participated in the judging process from May through early August.
"We are thrilled to get this award for writing quality early on in our company's history," said Chandra Clarke, president of Inklyo.com. "It validates the care and effort our staff put into their craft."
A subsidiary of Scribendi.com, the leading online editing and proofreading company in the world, Inklyo.com is known for its exceptional content writing services. The company specializes in editorial and advertorial copy, blog writing, newsletter copy, online and offline copywriting, technical writing, ghost blogging, white papers, press releases, and rewrites. Its team of writers is well educated and highly experienced, allowing the company to act as the voice of businesses around the world.
"We congratulate all of the Stevie winners in this year's IBAs," said Michael Gallagher, president and founder of the Stevie Awards. "The quality of entries we receive improves every year. This year's judges were rewarded with the opportunity to review more than 3,500 stories of business achievement and innovation from around the world. We look forward to celebrating the winners' achievements in Paris on October 10."
Details about The International Business Awards and the lists of Stevie Award winners are available at http://www.StevieAwards.com/IBA.