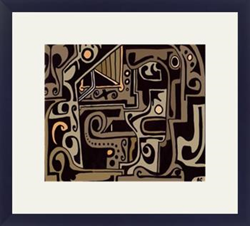 (PRWEB) November 05, 2014
Every month, American Frame, a web-based custom framing and art printing company, sponsors a contest for artists who sell and display work through American Frame's online Art Gallery. Winners are selected by customer votes on Facebook and receive a cash award and promotion through American Frame. This month's winner is multimedia artist Alex Cesarz.
Music often inspires Cesarz's work. Predictably, the compositions privilege shape, color and movement over a literal or figurative representation of the world. The winning work, "The Sound of Violins," expresses in its title and its shape a direct relationship to music, and of course to the humans listening. With a suggestion of musical notes and a playful sense of line and proportion, the work hints at both the joy of composition and performance as well as its technical challenges.
Mostly self-taught, Cesarz draws using multiple mediums and digitally edits to produce the finished art. The dark colors often featured pair well with his preferred framing style: streamlined black mouldings.
About American Frame
American Frame provides professional-quality DIY custom picture framing supplies and fine art printing services at wholesale prices direct to the consumer. Its easy web interface allows customers to design a custom frame treatment for assembly in the comfort of their homes or studios. They can also upload a digital image to be printed on canvas or fine art paper and receive framed work ready to hang. All orders are handcrafted in Maumee OH and shipped within 2 business days. Family owned and operated since 1973. Love your art. Frame it right.™