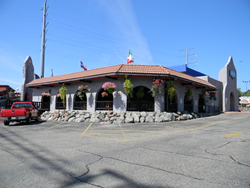 This property ... gives new owners, investors or other buyers the ability to purchase a building that is well-maintained, fully furnished and immediately ready for operation
KANSAS CITY, Mo. (PRWEB) November 05, 2014
A full-service bar and restaurant in Sauk County, Wis. (as well as its full line of equipment) is currently available to eligible buyers at an online auction ending on Tuesday, Dec. 9 at 6 p.m. CST. United Country – Hamele Auction & Realty will conduct the auction for the property – currently operating as Alamo Smokehouse located at 951 Stand Rock Road in the Wisconsin Dells resort area. This auction is being conducted in cooperation with Wisconsin Dells Realty.
"This property truly has it all," said Travis Hamele, broker and owner of United Country – Hamele Auction & Realty. "Not only is it located in one of the most rapidly expanding tourist destinations in the Midwest, but it also gives new owners, investors or other buyers the ability to purchase a building that is well-maintained, fully furnished and immediately ready for operation."
The auction features a roughly 11,700-square-foot building with seating for more than 300 as well as all fixtures, furnishings and equipment, including electronics and office equipment, outdoor furniture, bar equipment, dining room furniture, back-of-house necessities, cookware, storage, a beer cooler and kitchen equipment. The buyer of the real estate will be required to assume the land lease for the restaurant.
Additional information about the property for sale – as well as auction terms and conditions – can be found online at HameleAuctions.com or by calling United Country – Hamele Auction & Realty at 608-742-5000.
About United Country Real Estate
United Country Real Estate – a division of the United Real Estate Group – is the leading, fully integrated network of conventional and auction real estate professionals. The company has been an innovator in lifestyle and country real estate marketing since 1925. United Country supports nearly 600 offices and 5,000 real estate professionals across four continents, with a unique, comprehensive marketing program that includes the highest ranked and largest portfolios of specialty property marketing websites, the largest real estate marketing services company, an extensive buyer database of more than 500,000 opt-in buyers and exclusive global advertising of properties.