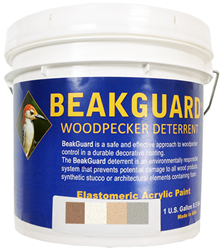 Paint woodpeckers away with BeakGuard® woodpecker deterrent elastomeric acrylic finish.
Irvine, CA (PRWEB) November 06, 2014
Bird B Gone, the leader in bird control products for commercial, industrial and residential applications offers a highly effective woodpecker deterrent for commercial and residential properties called BeakGuard®.
Every year, woodpeckers cause considerable damage to commercial and residential property, particularly during the fall season—September 22nd and to December 21st. Many common woodpeckers—like the downy, hairy, and northern flickers—are attracted to natural wood exteriors and occasionally stucco. The birds will aggressively drill into cedar, redwood siding, plywood, pine, fir or cypress. Woodpeckers will even peck at metal gutters, downspouts, chimney caps, TV antennas, rooftop plumbing vents, and metal roof valleys. Besides drilling for winter roosts, woodpeckers looking to feed on insects can create long, narrow furrows following horizontal or vertical seams or along window frames. The damage can be major and costly to repair and repaint. Holes can often be 2-3 inches in diameter. It's important to proactively discourage woodpeckers or they will gather in greater numbers. Pellet guns, poisons or other lethal means to get rid of woodpeckers is prohibited by the North American Migratory Bird Act, which regards these birds as a federally protected species.
Bird B Gone's BeakGuard® Woodpecker Deterrent is humane, effective and highly recommended for both commercial and residential applications. It can be used by pest- and bird-control professionals as well as by painters. The elastomeric acrylic finish communicates a warning signal to woodpeckers that discourages them from attacking vulnerable areas. It covers latex-painted surfaces, wood, fiber-cement, stucco, aluminum or vinyl. The compound won't harm woodpeckers or other birds, yet it's durable, long lasting, resists dirt pick up and endures heavy weather. The formulation creates a vapor permeable, flexible membrane that keeps its color. BeakGuard® is easily applied with a brush, roller, paint pad or ordinary spray equipment. One gallon covers approximately 180 square feet. Currently available colors include Nova White, Sand Stone, Whetstone and Portabello as well as custom colors on request.
Bird B Gone is the world's largest manufacturer and distributor of bird repellents and bird deterrents, providing effective and humane solutions to a bird-free environment. The company provides advice, training and installation services for those who need help with these and other bird control measures.