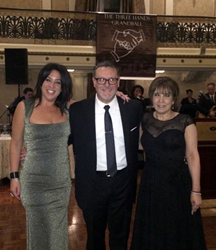 New York, NY (PRWEB) November 04, 2014
FirstService Residential, the premier residential management company in New York City, received the "Award of Excellence" at The Three Hands Grand Ball held at the Roosevelt Hotel on November 1, 2014. The award was presented to President Dan Wurtzel, Senior Vice President Tom Padilla, Vice President Jennifer Granda, and Property Manager Gloria D'Amura in recognition of their outstanding achievements within the real estate industry.
The award has been presented to a management company annually for the last 20 years by a coalition of the leading organizations of building managers in New York City: the Manhattan Resident Manager's Club, the Metropolitan Building Managers of New York, and the Scandinavian-American Building Manager's Guild.
"From educational programs that encourage professional development, to training that expands skills and knowledge, to networking events that promote sharing of best practices, we are grateful to the organizations that comprise The Three Hands for providing such a tremendous level of support to our building employees that enables them to remain at the forefront of our industry," said Tom Padilla, Senior Vice President, in accepting the award on behalf of FirstService Residential.
About FirstService Residential
FirstService Residential is a subsidiary of FirstService Corporation, a global leader in the rapidly growing real estate services sector, one of the largest markets in the world. As a leading property management company in North America, FirstService Residential oversees more than 6,500 residential and commercial associations including 1.5 million residential units and over 50 million square feet of commercial space across 21 U.S. states and three provinces in Canada. The company has more than 12,000 employees driving local market expertise and manages in excess of $6 billion in annual budgets. For more information, visit http://www.fsresidential.com.