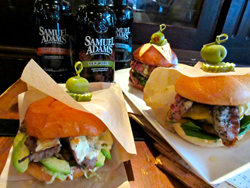 The Sam Adams Barrel Room Collection beers take the burger and beer experience to the next level.
Atlanta, GA (PRWEB) November 04, 2014
For the first 3 weeks in November, Fadó Irish Pub, located in the center of the new Buckhead Atlanta shopping development, will give customers a new burger and specialty beer pairing, from the Samuel Adams Brewery Barrel Room Collection, elevating the burger night experience. The Hopped Up Burger Menu offers burger lovers grass-fed beef burgers, three top end craft beers and 3 solid reasons to hit up Atlanta's favorite Irish Pub in November. And, starting Wednesday, November 5, Fadó will offer customers the 1st of three from-scratch, grass-fed burgers paired with a specialty craft beer from the America's top brewery. Only 15 burgers are prepared each day and only offered Wednesday through Saturday.
"Burgers and beer are synonymous with our Pub, so we wanted to create a unique, fun and tasty menu that featured the best local ingredients we could find" explains general manager Kevin Ellis. "The Sam Adams Barrel Room Collection beers take the burger and beer experience to the next level."
Burgers are prepared each weekend and paired with a featured beer of the week, a fresh-baked bun and served with one side item such as Fadó chips. The cost of the burger and beer bundle is $16.00
The "Hopped Up Burger Menu" is available Wednesday through Saturday for the 1st three weeks in November:
November 5th - 8th: "The Stony Brook" ~ made with American grass-fed beef, chopped sirloin burger with chipotle ketchup, fried pickle, blue cheese and Rosemary bacon on a Pretzel bun and paired with Stony Brook Red
November 12th - 15th: "The 13th Hour" ~ American grass-fed beef and Black Pudding burger with Horseradish sauce, spinach, crispy fried onions, Tillamook Cheddar, sage & Thyme, bacon on a Kaiser roll and paired with The Thirteenth Hour
November 19th - 22nd: "The New World" ~ Marinated carne asada steak with chipotle ketchup, shredded lettuce, grilled jalapeno, caramelized onions, avocado and jalapeno jack cheese in a brioche bun and paired with The New World
Book a dinner reservation at Fadó Irish Pub on Open Table.
About Fadó Irish Pub -
Fadó (pronounced fuh-doe) Irish Pub, located at 273 Buckhead Ave in the new Buckhead Atlanta development, was the first Irish pub to be designed and constructed in Ireland and shipped and installed in Atlanta in 1996. Fadó is distinguished by its genuine Irish hospitality, quality of its pints and craic (pronounced 'crack', a uniquely Irish form of fun). Fadó has been voted 'Best Of' by a number of local and national publications and is a favorite of International, US, and MLS soccer fans. Fadó is a proud member of the Official US Soccer Bar program and is the city's go-to spot for English Premier League, USA Men's, Champions League, La Liga, Serie A, Scottish Premier League, World Cup and much more. Get in on the conversation on the pub Facebook page facebook.com/fadoatlanta or by following Fadó on Twitter @fadoatlanta and Instagram @fadoirishpub