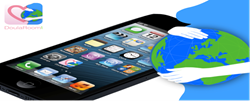 (PRWEB) November 06, 2014
Prelaunch of a new mobile pregnancy app on crowd funding site Indiegogo. http://igg.me/at/doularoom.
Pregnancy, like all great adventures, comes with its fair share of uncertainty. While some of this uncertainty can be exciting, other elements can lead even the most experienced parents to worry.
DoulaRoom's mobile app is designed to alleviate unnecessary worry by providing expectant mothers and their support circle with the information they need to accurately track their pregnancy journey and identify potential hurdles as they arise.
The DoulaRoom pregnancy app, designed by medical professionals, works in conjunction with integrated devices that allow an expectant mother to measure her own weight, blood pressure, activity, and baby's heart rate. These devices then wirelessly communicate the information to the DoulaRoom app in real time, allowing it to be shared with the mother's medical team and loved ones, as desired.
In addition to identifying potential risks such as excessive weight gain, and elevated blood pressure, the DoulaRoom app also assists expectant mothers in managing the day-to-day needs of their pregnancy by tracking such things as appointments, vitamin intake, exercise and pregnancy discomforts. The app will also help an expectant mother locate the closest hospital when travelling, or share important pregnancy information with long-distance loved ones.
"Expectant mothers today have access to increasing amounts of information, but deciphering the accurate information from the inaccurate can be overwhelming," says Dr. Kevin Calhoun MD, "The DoulaRoom app allows expectant mothers and their support circle to cut through the clutter, obtain accurate information and clearly share questions and concerns with their medical professionals."
This app was born in the cloud using IBM's Bluemix platform with IBM MobileFirst solutions http://www-01.ibm.com/software/bluemix/. DoulaRoom empowers expectant mothers in developed and developing countries by providing them with accessible, high-quality prenatal information and peace of mind at their fingertips. The mobile app is the result of years of experience from mothers, doctors, midwives, nurses, doulas and families. DoulaRoom is the creation of Healthcare EQ Inc, an IBM Business Partner.
To learn more about how DoulaRoom is empowering expectant mothers, visit http://www.doularoom.com or Facebook http://www.facebook.com/doularoom.
About DoulaRoom
Pregnancy is complex. With the vast amounts of information available to an expectant mother, filtering through it can be overwhelming – and knowing how to contribute to your baby's best start in life can be even more so. DoulaRoom seeks to simplify the process by providing one, single portal for your pregnancy information. With one app, expectant mothers can track their pregnancy metrics, document their pregnancy journey, find trusted answers to their questions and share the information with their medical team and support circle. To find out more, visit http://www.doularoom.com.