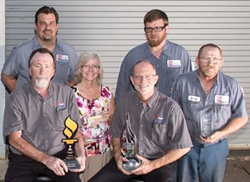 Integrity is a hallmark of 25th Street Automotive's mission and philosophy, and we are focused on providing unsurpassed customer service and care.
Phoenix, Ariz. (PRWEB) November 04, 2014
When it comes to awards and recognition, it can be challenging to determine what is real and what each of the trophies means, if anything. The Phoenix automotive repair shop, 25th Street Automotive, is proud of the awards they've received because each was earned due to the company's dedication to excellent customer service and high ethical standards. And now they can say they are one of the only Arizona automotive services companies to have won the Better Business Bureau's International Torch Award for Ethics, awarded in 2014.
Managed by Bill Coniam since 2000, 25th Street Automotive has gained a loyal customer base because of the way in which they conduct business. Integrity is a hallmark of the company's mission and philosophy, so it was a natural fit to apply for the Better Business Bureau (BBB) Ethics Award, which the company won in 2013. Components of the award include leadership commitment to ethical practices, communication of ethical practices, organizational commitment to ethical practices and performance management practices, ethical human resources practices, and organizational commitment to the community. To qualify, all applicants must submit a comprehensive application packet. Finalists are then interviewed to determine a winner in each category, which is based on number of employees.
Winners of the Arizona BBB Ethics Award were then submitted to the international competition, and 25th Street Automotive was one of four companies in the nation to receive the International Torch Award for Ethics, which is presented to businesses in recognition of best practices in leadership, character, and organizational ethics. Candidates must be winners of their local award, a category currently offered by 14 BBB centers across North America. This is the inaugural year for the international award.
Coniam himself is the "resident car guy" for Phoenix's 12 News and the go-to automotive expert for a number of media outlets in the area. He and his team embody the company's tagline: "Biltmore's trusted choice because we're the car guys who care." As the service manager and managing partner of 25th Street Automotive, Coniam interacts with all of the customers and provides reliable support and information, even if that means telling a customer they cannot help them. "It's both my personal philosophy and the focus of 25th Street Automotive to be honest. We strive to partner with our customers to keep their cars on the road longer. We work with them based on their needs and their budgets, and we tell them the good, the bad, and the ugly so together we can make the best choices for service," shared Coniam.
Located in Biltmore's Camelback Corridor of Phoenix, 25th Street Automotive serves many of the car owners who live and work in the area, but their reach has expanded beyond their neighborhood. Said Coniam, "We have clients who drive from across town to have us service their cars because they know they can trust us. That means a lot, and we work hard to keep that trust."
In addition to winning the 2014 International Torch Award for Ethics and the 2013 Better Business Bureau Ethics Award, 25th Street Automotive has also been awarded AAA's Top Shop 2007–2014 and the National Institute for Automotive Service Excellence (ASE) Blue Seal of Excellence in 2000–2014. The shop is a recognized Arizona Department of Environmental Quality Green Business, and all of the permanent employees are ASE Master Technicians.
To learn more about 25th Street Automotive, visit http://25thstreetautomotive.com or call 602-955-2637.
###