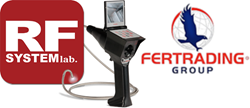 Traverse City, MI (PRWEB) November 06, 2014
RF System Lab partnered with Fertrading Group earlier this year to expand the VJ-Advance video borescope market into Central and South America. Fertrading Group is an industry-leading international trade and global sourcing company that focuses on building strong, long-lasting business relationships between international companies to import and export their products.
For the first time, RF System Lab and Fertrading Group will be collaborating to present the VJ-Advance (VJ-ADV) video borescope to aviation maintenance professionals at Expo CIAM (CIAM). The 9th International Aviation Trade Show & Congress, Expo CIAM, will take place this year in Cancun, Mexico from November 7-9. Called "The most important aviation trade show in Latin America," CIAM is supported by the Mexican Federal & State Governments and the worldwide aeronautics industry. The trade show also provides valuable business opportunities to meet and network with aircraft manufacturers, operators, pilots, airlines, maintenance technicians, repair and overhaul companies, military professionals, and many other groups.
The VJ-Advance video borescope is currently in use by a vast number of aviation industry professionals. RF System Lab's General Manager, Sean O'Connor and Fertrading Group's President & CEO, Marcelo Ferriera are looking forward to the opportunity to introduce the VJ-ADV to interested CIAM attendees at booth #303.
Visit RF System Lab and Fertrading Group at booth #303 starting at 10:00am on Saturday, November 8th or visit http://www.rfsystemlab.us for more information on the groundbreaking VJ-ADV.