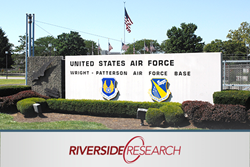 "Riverside Research is committed to furthering the mission and initiatives of our longstanding customer, AFRL," said Mary Barefoot, Riverside Research Executive Director for Programs.
Dayton, Ohio (PRWEB) November 05, 2014
Riverside Research, a not-for-profit company providing trusted solutions primarily to the U.S. Department of Defense since 1967, was one of multiple awardees named by the Air Force Research Laboratory (AFRL) for support of their new research program, "Advanced Novel Spectrum Warfare Environment Research (ANSWER)." This $47 million indefinite delivery/indefinite quantity (IDIQ) contract aims to advance warfighting technologies and techniques. Subsequent to this announcement, Riverside Research was also awarded the program's first task order, "Reconfigurable Threat Assessment Tool for Electronic Attack (EA) Technique Development."
The ANSWER program encompasses several emerging technical areas, including radio frequency spectrum warfare, trusted cyber-resilient avionics systems engineering, position navigation and timing in contested or denied environments, and electro-optics countermeasures. Through research in these new technical areas, the ANSWER program supports AFRL in ensuring unequaled reconnaissance, surveillance, precision engagement, and electronic warfare capabilities for America's Air and Space Forces by developing, demonstrating, and transitioning advanced sensors and sensor technologies.
Riverside Research is honored to continue support of AFRL in basic and applied research that contributes to U.S. warfighting dominance across the entire electromagnetic spectrum. Riverside Research and its trusted partners NAVSYS Corporation, UES, Inc., WBB, the University of Dayton Research Institute, The Ohio State University, and Applied Research Solutions are dedicated to the advancement of U.S. warfighting capabilities through innovative research in the aforementioned technologies.
"Riverside Research is committed to furthering the mission and initiatives of our longstanding customer, AFRL," said Mary Barefoot, Riverside Research Executive Director for Programs. "We are pleased to contribute to a program that enhances defense capabilities and ensures national security."
About Riverside Research
Riverside Research is an independent not-for-profit, scientific-research company committed to enhancing the security of our nation through trusted, high-level technical advisory and engineering support to government entities, public agencies, and private subcontractors in the public health, national security, and intelligence sectors since 1967. Centers of Excellence include biomedical engineering, cyber, electromagnetic sciences, and intelligence, surveillance, & reconnaissance