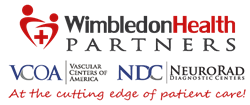 By setting up a Nerve Conduction Velocity (NCV) study through NDC, the severity of peripheral neuropathy can be evaluated and treated.
Boca Raton, Florida (PRWEB) November 04, 2014
Affecting more than 29.1 million people in the United States with 8.1 million undiagnosed, diabetes is a group of diseases characterized by high blood glucose levels that result from defects in the body's ability to produce and/or use insulin.
Diabetes can strike anyone, from any walk of life. It is a leading cause of blindness, kidney failure, amputations, heart failure and stroke. Through Wimbledon Health Partners NeuroRad Diagnostic Centers (NDC) and Vascular Centers of America (VCOA) diagnostic testing programs, early detection and treatment of certain diabetic disorders is possible.
Statistics show that about 60 percent of diabetic patients most likely have some degree of peripheral neuropathy. Early detection of this problem is essential, particularly in patients who are over age 30, but younger than 65. By setting up a Nerve Conduction Velocity (NCV) study through NDC, the severity of peripheral neuropathy can be evaluated and treated. The NCV study consists of multiple tests designed to evaluate different portions of the nerves of the arms and legs. The tests in the upper and lower extremities subject nerves to an electrical impulse to assess how they conduct signals. Annual retesting will help in determining any progress or degradation of the condition.
A person with diabetes is also at a higher risk for the development of diabetic vascular disease where blockages build up in the arteries due to the body overproducing glucose. A vascular ultrasound through VCOA aids in the early detection and diagnosis of vascular disease. The vascular ultrasound is an imaging test used to see how blood moves through the arteries and veins. It measures the speed of the flow of blood and can reveal if there are any blockages.
In general, pre-diabetics or diabetics need to understand the severity of their condition. Early detection and prevention of associated conditions are paramount to maintain a healthy life. Equally important to those with diabetes is maintaining a healthy diet, exercise and medication management.
About Wimbledon Health Partners
Wimbledon Health Partners is a national on-site diagnostic testing organization with capabilities for diagnosing circulatory conditions that can be detected through the use of vascular ultrasound. Furthering their capabilities, nerve conduction velocity testing (NCV) is also utilized to support diagnosis of nerve involvement and manage risk. Wimbledon Health Partners is an innovative, cooperative marketing and practice-enhancement program that provides physicians with the educational, compliance and marketing tools necessary to provide quality, state-of-the-art, in-office testing procedures. For more information, visit http://www.dxtesting.com or call (855) 200-VCOA (8262).