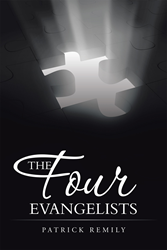 Nothing in this life happens by chance.
Portland, OR (PRWEB) November 06, 2014
Author Patrick Remily was an atheist for more than a decade before becoming a Christian. After taking an interest in cults and exploring a world of darkness, he finally accepted Christ into his life.
Drawing on his experiences as an atheist fighting his own demons, Remily shows the power of God's love in his new novel, "The Four Evangelists." He focuses on the importance of maintaining faith and how God has a plan for each believer, depicting the battle between choosing to believe in God or Satan.
Agnostic private detective Jack Seagram is thrust into this spiritual war, and one of his cases leads to a gruesome murder. Thinking he has put the horror behind him, he builds what he believes to be a normal life, but soon discovers that the murder was only the beginning of something much bigger and more sinister. Seagram must choose between God's love and Satan's deception.
"Even in the darkest nights, God's promise of renewed life comes at dawn," Remily said. "Nothing in this life happens by chance."
For more information, visit Bookstore.WestbowPress.com.
"The Four Evangelists"
By Patrick Remily
ISBN: 9781490835938
Available in softcover, hardcover, e-book
Available on Amazon, Barnes & Noble and WestBow Press
About the author
Patrick Remily resides in Vancouver, Washington, with his wife and four children. He is a member of Columbia View Wesleyan Church and works as a freight manager with the Oregon Air National Guard. Remily received a bachelor's degree in history with a minor in anthropology from Western Oregon University.
For review copies or interview requests, contact: Courtney Alvey
317.602.7137
calvey(at)bohlsengroup(dot)com