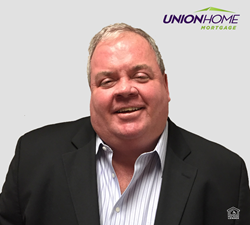 We couldn't be more excited to welcome Jim as a fellow Partner
Strongsville, OH (PRWEB) November 06, 2014
Union Home Mortgage Corp. (UHM) is excited to announce new UHM partner, Jim Ferriter, as National Retail Sales Manager.
Previously, Ferriter was Executive Vice President at Caliber Home Loans, where he was responsible for retail, wholesale, correspondent, and the consumer direct channels. Ferriter is well known for his accomplishments in the mortgage banking industry, where he has held key roles with major lenders. He has an established track record of success in production leadership and a well-rounded background involving multi-state and multi-channel experience.
"UHM presents an exciting opportunity in the mortgage origination business, and it has picked up serious growth momentum over the last couple years," Ferriter said. "I look forward to working with their talented Partners and immersing myself in the team-oriented culture."
Ferriter has consistently earned honorable leadership awards throughout his career and has a passion for building productive teams with a constant eye on the bottom line.
"We couldn't be more excited to welcome Jim as a fellow Partner" Al Blank, UHM President, said. "We believe he has a bright future within our organization and I'm looking forward to the materialization of his vision for the retail channel."
As National Retail Sales Manager, Ferriter will recruit and develop Partners by using his leadership and expansive knowledge of the industry. He will implement infrastructure and systems to support the success of the retail division and deliver profitable growth for the company. Overall, with his success in national roles he is profoundly connected in most major markets and continues to stay plugged in.
UHM is known for its outstanding leadership in the mortgage banking community, and the addition of Ferriter helps bolster this reputation. The organization as a whole is extremely fortunate to be welcoming this new Partner. 2014 continues to be a prosperous year for UHM.
For more information about the stellar leadership team at UHM, please visit their website at UnionHomeMortgage.com.