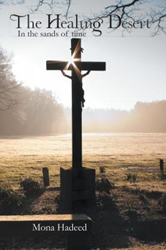 Though we face situations that seem impossible and dark, there is no need to give up
TRINIDAD, West Indies (PRWEB) November 06, 2014
When author Mona Hadeed learned that more people in the United States die of suicide than of car accidents each year, she was horrified. Throughout her troubled life, God has been bigger than any problem; so she set to work to share her hope with the world.
Hadeed's life story, "The Healing Desert" is a first-hand testimony of a physical miracle and other divine interventions. It contains the virtues of faith, hope, and love, which help bring about a better world.
"My story lets people who are hopeless and depressed know that even though we face situations that seem impossible and dark, there is no need to give up," Hadeed said.
Hadeed came out of her battle with cancer and loss with a deepened faith in God and the need to share with others the power of his healing in her life.
"My hope is this book would touch the hearts of everyone and bring hope to those in despair," Hadeed said. "We are all in need of spiritual, emotional, and physical healing, and my story shows that God can heal all wounds."
For more information, visit http://www.healingdeserttt.com/.
The Healing Desert: In the sands of time
By Mona Hadeed
ISBN: 978-1-49182-934-9
Available in softcover, hardcover, e-book
Available on Amazon, Barnes & Noble and AuthorHouse
About the author
Mona Hadeed, a devoted mother of three and grandmother of six, is an avid writer who has answered God's call to spread His message of faith and love. Born and raised in the Caribbean island of Trinidad, she was instrumental in the start of Eucharistic Adoration in her community in 1996. From her many pilgrimages, she has gained spiritual insight and healing, in addition to strengthening her faith for life's journey.
# # #
For review copies or interview requests, contact:
Jaymie Shook
317.602.7137
jshook(at)bohlsengroup(dot)com