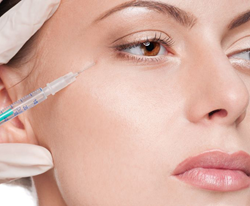 We wanted to look at real life – how this treatment has been incorporated into patients' lives and how treatments themselves have changed over time.
San Diego, Calif. (PRWEB) November 09, 2014
Repeated Botox treatments to treat facial wrinkles over many years are safe, according to a new international study.
Results of the retrospective review – conducted by Alastair Carruthers, FRCPC, a member of the American Society for Dermatologic Surgery – were presented Nov. 8 at the 2014 ASDS Annual Meeting in San Diego.
The study also concluded that the injectable wrinkle-relaxer, manufactured by Allergan, can be used safely in conjunction with other aesthetic treatments and that long-term patients are satisfied with their results.
Researchers additionally determined that Botox dosages for treating horizontal forehead lines have decreased since 1999 to achieve a more "gentle" appearance, Carruthers said.
He and his co-authors reviewed the charts of and interviewed nearly 200 patients treated with Botox for five or more continuous years during the time period of 1999 to 2012. Patients received at least one treatment each year for glabellar frown lines – generally described as the number "11" vertical wrinkles between the eyebrows.
The patients had 5,112 total treatment sessions, averaging two or more treatments each year over an average of nine years. Some patients received treatments for as long as 16 years. Researchers reviewed the records for the facial areas treated, number of treatments, dosage for each facial area, whether the patient had other facial aesthetic treatments and any Botox-related adverse events. Patients were an average age of 46.3 years at the time of the first treatment.
The researchers also interviewed all patients to get their personal assessments of the treatments. "Self-perception of age is a very simple way of judging results," Carruthers said. "We found that the longer patients were treated, the younger they perceived themselves to look."
Carruthers said while researchers found it gratifying to know long-term patients are satisfied with the treatments, the objective was to look beyond happiness with the outcomes. "We wanted to look at real life – how this treatment has been incorporated into patients' lives and how treatments themselves have changed over time," he said.
In Canada, for the face, Botox first was approved for treating glabellar frown lines. Treatments to address crow's feet came next, followed quickly by procedures to treat horizontal forehead lines.
The dosage for treating glabellar frown lines and crow's feet has not changed significantly, Carruthers said.
"However doctors now use less Botox per treatment session to treat horizontal forehead lines," Carruthers said. "We are able to produce a more natural result."
Eighty-five percent of the patients in the study group also received soft-tissue filler treatments. Over time, patients also received other facial aesthetic treatments, including energy-based procedures such as intense pulsed light therapy.
Adverse effects from combining Botox with other treatments were infrequent, mostly mild, and declined markedly over the first year of treatment, Carruthers said.
Nearly 30 years ago he and his wife Jean Carruthers, MD, discovered that Botox – then used to treat eye spasms – also eased facial lines. Much has changed in the world of cosmetic skin treatments since that first introduction of the drug as a wrinkle-relaxer, Carruthers said.
"It was a very dynamic and changing period in the world of cosmetic medicine. This retrospective provides extensive data on the progression of patients' aesthetic treatments plus clinical trends during the period of widespread adoption of injectable aesthetic treatments to reduce facial lines and wrinkles," he said.
The decrease in dosage for the treatment of horizontal wrinkles on the forehead provides an example of changing clinical trends, he said. "Over the years, we've learned to make our treatments better and more effective," he said.
Carruthers stressed the importance of seeking an expert, such as a dermatologist or dermatologic surgeon, for wrinkle-relaxing cosmetic medical procedures. "We say in our office, 'Shop for your shoes, not for your face.' This is where you live." Medical procedures such as facial injectables are too important to trust to anyone but a trained expert, said Carruthers, of Carruthers Derm Centre in Vancouver, Canada.
He noted that Botox, which has always had a number of medical uses, now is being utilized to treat even more conditions, including depression. "Botox keeps getting more and more interesting," he said.
Co-authors of "Evolution of Facial Aesthetic Treatment over Five or More Years: An International Retrospective, Cross-sectional Analysis of Continuous OnabotulinumtoxinA Treatment" include Drs. Frederic Brandt, Steve Fagan, Greg Goodman, Herve Raspaldo, Neil Sadick, Kevin Smith and Ada Regina Trindade de Almeida; and Sarah Darmody and Conor Gallagher, Ph.D., from Allergan.
About ASDS
The American Society for Dermatologic Surgery (ASDS) is the largest specialty organization exclusively representing dermatologic surgeons who have unique training and experience to treat the health, function and beauty of your skin. ASDS members are pioneers in the field. Many are involved in the clinical studies that bring popular treatments to revitalize skin and fill and diminish wrinkles to the forefront. Their work has helped create and enhance many of the devices that remove blemishes, hair and fat, and tighten skin. Dermatologic surgeons also are experts in skin cancer prevention, detection and treatment. As the incidence of skin cancer rises, dermatologic surgeons are committed to taking steps to minimize the life-threatening effects of this disease. For more information, visit asds.net.
Follow us:
Website: http://www.asds.net
Follow ASDS on Twitter: http://www.twitter.com/ASDSSkinExperts
Become a fan of ASDS on Facebook: https://www.facebook.com/ASDSSkinExperts
Locate a dermatologic surgeon in your area: http://www.asds.net/findadermatologist.aspx
Contact:
Beth Bales
Communications Manager
American Society for Dermatologic Surgery
847-956-9143