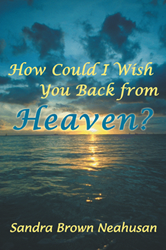 Sometimes we end up saying nothing because we don't know what to say, or avoid calling because we don't want to embarrass ourselves. Go ahead, take the chance.
Venice, Florida (PRWEB) November 05, 2014
After the loss of a loved one people experience birthdays, anniversaries, and holidays without them. These can be very rough times for those in grief recovery. Memories flood at every level. In her book, "How Could I Wish You Back From Heaven?" Sandra Brown Neahusan offers these helpful suggestions to help:
1. Past holidays cannot be duplicated. Start a new tradition. If holidays were spent at the loved ones home, ask another relative or friend to host the celebration.
2. Simplify the meal the first year. Emotions are already on edge. Keep things simple and do not make more stress for yourself.
3. Learn to shop online. There is still the joy in giving gifts, but no rushing through crowds or pressure to get to the store before the sale price ends.
4. Accept that people may be uncomfortable with emotions. Perhaps it will be a learning experience for them to see that grieving is a natural and accepted personal and social situation.
5. Be a help to others. Serve a meal at a shelter, pack holiday packages for shut-ins or military families.
6. Take care of your health. Eat correctly, exercise and get enough sleep.
About Sandra Brown Neahusan:
Sandra hears from people every week who express their gratitude for her openness in sharing her grief experience. Her books are being shared all over the country. Many personal reviews can be found on the FaceBook page: Sandra Brown Neahusan Book.
She shares her experiences weekly in GriefShare group she facilitates. Helping others work through their grief and sadness brings great joy and focus during her time of loss.
To listen to a radio interview conducted with Sandra by Ann Corcoran of radiosrq.com, please follow this link: http://radiosrq.com/?s=neahusan.
This book is available on westbowpress.com, amazon.com, barnesandnoble.com and christianbook.com, and from the author.