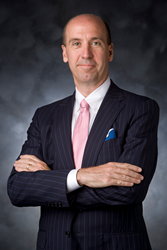 Expect technology to continue to move from the large corporate farms to even the smallest of family farms and, in the process, it will transform agriculture as we know it.
Omaha, NE (PRWEB) November 05, 2014
At the core of their mission, the Farm Credit Services of America believes "American agriculture has grown to become the largest, most efficient and productive food system in the world, but it remains a business of people." The FCS is hosting the Leaders Conference in Omaha, NE and their keynote speakers, agricultural trend expert Jack Uldrich and best selling author Joseph Grenny, will focus on how to maximize the leaders of the FCS's communication skills and ability to embrace change through forward thinking.
The theme of the event is "Transforming Tomorrow, and Uldrich will deliver his keynote "Foresight 2020: Ten Trends Transforming Tomorrow." One of Uldrich's main missions it to get his audience to think, not just outside the box, but also to be original, creative, imaginative, artistic, innovative, and resourceful within the box. He actively encourages his clients to take time to just think, if you can afford to, "take a whole week just to contemplate."
One concept he shares with his audiences is the 'disappearing word.' "To better understand the future," says Uldrich, "I frequently advise my audiences to be aware of descriptor phrases that will fade away in time. For example, we no longer say 'color TV,' it's just TV. The same will eventually be true of 'precision' agriculture and 'prescriptive' planting. Soon, it'll just be referred to as agriculture and planting. Ultimately, through encouraging his clients to think, he seeks to help his clients turn new ideas into strategy and action, and transform inspirational leaders with the power of awareness, to influence and shape change.
Uldrich who addressed the FCS in April will be discussing a number of business, political, social, economic, demographic and technological trends with the leaders in Omaha. Some of the trends he will be covering are precision agriculture, data mining/business analytics, biofuels, hydroponics, vertical farming, synthetic biology, cloud computing and supercomputing.
In addition to the top ten trends, Uldrich will also highlight how members of FCC Services can learn to "embrace ambiguity;" why finding a "reverse mentor" could be crucial; and why taking small risks may very well be the safest thing they can do to position themselves for success in the years to come.
Uldrich, who is also recognized as a leading expert in the field of change management and unlearning, has addressed dozens of agricultural corporations and associations, including the PMA, Novozymes, Land O' Lakes, Ag Spectrum, MosaicAg, Case IH, The Christian Farmers Federation, The Iowa Institute for Cooperatives, The Agricultural Adaptation Council of Ontario, AgGateway, the California Ag Summit, along with several other clients in a variety of industries, like ABB/Thomas & Betts, Fiatech, United Healthcare, Cisco, IBM, and Wells Fargo.
Following his keynote in Omaha, Uldrich will round out the week speaking in Austin, Texas at the Clearesult Energy Summit providing a customized presentation on the future of energy efficiency, business and technological trends.
Parties interested in learning more about him, his books, his daily blog or his speaking availability are encouraged to visit his website. Media wishing to know more about either the event or interviewing Jack as a futurist or trend expert can contact Amy Tomczyk at (651) 343.0660.