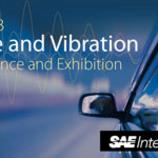 Held biennially, this conference is the premier technical event dedicated to mobility noise, vibration and harshness (NVH
WARRENDALE, Pa. (PRWEB) November 07, 2014
Building on the success from its 2013 event, SAE International announces that it will hold the SAE 2015 Noise and Vibration Conference and Exhibition on June 22-25 at the DeVos Place Convention Center in Grand Rapids, Mich.
Held biennially, this conference is the premier technical event dedicated to mobility noise, vibration and harshness (NVH). It serves as a forum for leading automotive, commercial vehicle, and aerospace professionals to share the latest technologies surrounding NVH, and sound quality.
The following topics related to vehicle design, engineering and testing will be the focus of the event:

Engine/Powertrain/Drivetrain
Heavy Vehicle and Vehicle Exterior
Numerical Methods
NVH Measurement
Passive and Active NVH Control
Standards, Process and Perspectives
Vehicle Subsystem NVH
Commercial and Specialty Vehicles
Mark your calendars today to attend this important event. For more information or to register, visit http://www.sae.org/events/nvc/. To request press credentials, email pr(at)sae(dot)org or call 1-724-772-8522.
SAE International is a global association committed to being the ultimate knowledge source for the engineering profession. By uniting over 148,000 engineers and technical experts, we drive knowledge and expertise across a broad spectrum of industries. We act on two priorities: encouraging a lifetime of learning for mobility engineering professionals and setting the standards for industry engineering. We strive for a better world through the work of our philanthropic SAE Foundation, including programs like A World in Motion® and the Collegiate Design Series™.