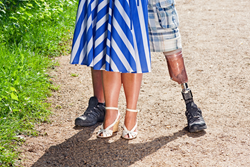 Overall, laser hair removal provides a great, cost-effective benefit to wounded warriors and could eventually be generalized to the civilian population with traumatic amputations with prostheses.
San Diego, Calif. (PRWEB) November 08, 2014
Laser hair removal "significantly improves" the quality of life for military personnel who have suffered combat-associated amputations, according to a just-released study by an active-duty dermatologist who works with wounded warriors.
Army Capt. Nathanial Miletta, M.D. – a member of the American Society for Dermatologic Surgery – presented the study findings today during the 2014 ASDS Annual Meeting, which runs through Nov. 9 in San Diego.
Military dermatologists have used laser hair removal to improve skin conditions for amputees since 2002. Miletta said he and his co-authors wanted to assess subjective changes, including how dermatologic conditions at the residual limb and prosthetic joint interface impact quality of life for service members and whether laser hair removal at the connection brings improvements.
Approximately 40 percent of service personnel with amputations report skin problems, most notably sweating and irritation at the connection, Miletta said. Clinical experience showed the problems "severely affect the quality of life of our wounded warriors" and could be alleviated through laser hair removal, he said.
A tight, constricting rubber sleeve fits over a soldier's residual limb, with the prosthetic device placed over that, Miletta said.
"The residual limb is not designed for that pressure of walking," he said. The rubber sleeve causes sweating that can lead to infections and abscesses, plus slipping and loss of stability. Other skin problems include itching, pain, irritation and pulling of leg hair as well as having to shave the area, he said.
Miletta and his team conducted a retrospective review of 10 veterans with 16 total artificial limbs. Each received one to six laser hair removal treatments.
Patients completed before-and-after questionnaires measuring to what degree skin conditions affected their daily lives, plus relative changes after treatment. The questionnaires assessed physical symptoms, emotions and functioning.
"The results show a statistically significant improvement in the quality of life in all three categories for patients treated with as few as one laser hair treatment," Miletta said. "In terms of the difference this makes in their everyday lives, we see huge improvements."
The study – "Improving Quality of Life in Wounded Warriors with Traumatic Amputations: The Promising Benefits of Laser Hair Removal at the Residual Limb-Prosthetic Socket Interface" – outlined notable improvements reported by service members, including:

Physical symptoms: itching, pain, irritation, sweating and pulling of leg hair.
Emotional influence: frustration.
Impact on functioning: exercise, work, recreation.
The subjective change in sweating was particularly notable, with eight of the 10 patients reporting that benefit, Miletta said.
"That was unexpected – and potentially very exciting," he said. "With a decrease in sweating, there is less slippage from the prosthetic, making patients feel more secure. Plus, patients do not get as many friction blisters."
He said because the subjective increases are so substantive, the study has implications for civilians with prosthetic limbs as well.
"Overall, laser hair removal provides a great, cost-effective benefit to wounded warriors and could eventually be generalized to the civilian population with traumatic amputations with prostheses," he said.
Researchers are continuing to examine the effects of laser hair removal and have added at least 15 more service members to the study. Miletta said work now is under way to look for quantitative measures, not just the subjective improvements already uncovered.
A future study will measure the differences in sweat reduction between laser hair removal, botulinum toxin injections and MiraDry treatments (an energy-based treatment for sweating). Many amputee patients receive botulinum toxin injections to reduce sweating; the study specifically excluded personnel who had already had that procedure.
Miletta said providing excellent care for veterans – using every treatment available – is critically important. "We perform scar revisions and scar improvements, residual limb work and treat traumatic tattoos. Laser hair removal is another example," he said.
"Optimizing care for our veterans is paramount, and I'm thrilled to be a part of an amazing multidisciplinary team in the Department of Defense that makes a huge difference for service members every day," he said. "It is an absolute honor to treat these men and women who have sacrificed so much for our country."
Co-authors include Navy Lt. Sang Kim, MD, and Army Lt. Col. Jason Marquart, MD.
About ASDS
The American Society for Dermatologic Surgery (ASDS) is the largest specialty organization exclusively representing dermatologic surgeons who have unique training and experience to treat the health, function and beauty of your skin. ASDS members are pioneers in the field. Many are involved in the clinical studies that bring popular treatments to revitalize skin and fill and diminish wrinkles to the forefront. Their work has helped create and enhance many of the devices that remove blemishes, hair and fat, and tighten skin. Dermatologic surgeons also are experts in skin cancer prevention, detection and treatment. As the incidence of skin cancer rises, dermatologic surgeons are committed to taking steps to minimize the life-threatening effects of this disease. For more information, visit asds.net.
Follow us:
Website: http://www.asds.net
Follow ASDS on Twitter: http://www.twitter.com/ASDSSkinExperts
Become a fan of ASDS on Facebook: https://www.facebook.com/ASDSSkinExperts
Locate a dermatologic surgeon in your area: http://www.asds.net/findadermatologist.aspx
Contact:
Beth Bales
Communications Manager
American Society for Dermatologic Surgery
847-956-9143