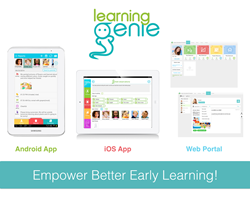 "Learning Genie has improved the communication between teachers and parents in a tremendous way."-Ms. Chrissy, PreK Teacher
Dallas, TX (PRWEB) November 05, 2014
After a successful administrator's conference (CCDAA) in Sacramento last week, the Learning Genie team is heading to Dallas to launch their latest app for preschool teachers and directors. It's all happening at the National Association for the Education of Young Children (NAEYC) Annual Conference—one of the biggest events in the Early Childhood Education industry.
This week, Learning Genie is unveiling their new and much-anticipated cross platform app, featuring mobile versions for iPad and Android, plus a web portal. The app provides a revolutionary way for preschool teachers to create daily reports, record portfolio assessments and increase parent engagement via latest mobile internet technology.
Attendees of the NAEYC conference will have a chance to try out the app, ask questions and meet some of the minds behind the magic. For those truly interested in using Learning Genie at their early learning centers, the company will be handing out a limited number of invitation codes at the conference. These codes will grant the lucky user a full-access account at absolutely no cost—and no, there's not a catch.
If the original success of their app launched at last years NAEYC conference is any indication, the new version is sure to make a splash. With over 1 million activities logged, hundreds of thousands of photos shared and over 6 thousand portfolios generated, their current user base is booming. Learning Genie users can vouch for the app's benefits too—increased productivity, enhanced parent engagement, overall improvement of the early learning experience and lots of smiles all around.
Learning Genie is a mobile app improving the lives of preschool teachers, directors and parents with the overall mission to empower better early learning. Please visit http://www.learning-genie.com to request an invitation code and to add to the million+ activities logged to date.