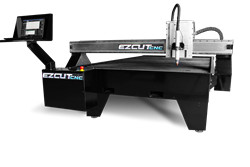 St. Louis, MO (PRWEB) November 06, 2014
St. Louis, MO-Global suppliers of plasma cutting systems, Machitech Automation and EZ Cut CNC, recently announced a business partnership that will allow both companies to expand into new markets and complete their product market presence.
Machitech Automation, a global supplier of CNC plasma cutting tables, will now have access to expanded infrastructure and EZ Cut CNC's U.S. product line. EZ Cut CNC supplies CNC plasma cutting systems to custom metal fabricators and will now have access to a greater line of CNC cutting products as a result of this partnership.
This partnership will help Machitech Automation move closer to its corporate mission of becoming a leading global manufacturer of automated cutting solutions.
The expanded line of products from Machitech Automation will be available in all EZ Cut CNC geographical markets. Machitech Automation and EZ Cut CNC will share engineering, production, sales and service support, and warehousing.
EZ Cut CNC and Machitech Automation automated systems include:

Unitized CNC plasma cutting systems and custom built CNC plasma cutting systems
CNC water jet cutting systems
Fiber laser systems
CNC router systems
Robotic tube and beam profiling systems
Custom built fabrication systems
About EZ Cut CNC
EZ Cut CNC is a leading supplier of plasma cutting systems for industrial metal cutting and custom metal fabrication. All EZ Cut CNC systems include everything you need for custom metal fabrication, including the CNC plasma table, mechanized plasma cutter, computer and stand, drawing and cutting software. EZ Cut CNC also offers on-site training and technical support by phone and email. For more information visit http://www.ezcutcnc.com/
About Machitech Automation
Machitech Automation is a manufacturer of automated cutting solutions for the metal cutting and fabrication industry. Machitech Automation is a global supplier of CNC plasma cutting tables and automated cutting solutions. For more information, visit http://www.machitechautomation.com/