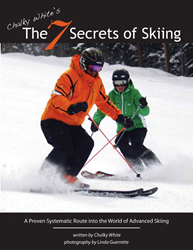 VAIL, CO (PRWEB) November 05, 2014
Renowned snow skiing instructor Chalky White has launched Ski the World with Chalky White, a new program that allows participants to ski any resort of their choice in the world – from the better known Alpe d'Huez in the Central French Alps to Jackson Hole in Wyoming to Zermatt in Switzerland to the more unusual Niseko in Japan to Portillo in Chile, and many more.
"The principle of the program is that creatures of habit need to break out and realize that the skiing world is their oyster," Chalky says.
Ski the World with Chalky White is a venture made possible by the phenomenal success of Chalky White's 2011 how-to book – Amazon's, in category, No.1 bestselling "The 7 Secrets of Skiing." Among many ski enthusiasts and instructors, the book is essential reading.
Amazon reviewer Steve4mica writes: "As a professional ski instructor, I am intimately familiar with the skills concept and movement pools taught by most U.S. ski schools. The 7 Secrets complements and enables this body of ski instruction … it focuses on the fundamental skills that underpin all other skills … If you aspire to be a great or even good skier and consider yourself a student of the sport, then I highly recommend this book."
Ski the World with Chalky White appeals to both adept intermediate and advanced
to expert skiers – both, in part, because of Chalky's story. After a childhood of abuse and consequent poor performance in school, he had few career choices. Ultimately, after earning enough money selling encyclopedias in a foreign country, he pursued his dream to become a fully certified ski instructor. But his journey was difficult – he failed certifications and was rejected by a prominent instructor body because, as they phrased it, he had "the wrong body shape." Many would have quit right there, White did not!
"Adversity is simply the flipside of success," says Chalky, who, after failing to achieve full certification in the United Kingdom, took a calculated risk and flew across the world to New Zealand for training and certification there. Denied entry to the program, his tenacity finally convinced the coach to take him on; finally, he fulfilled his dream, he became a fully certified ski instructor.
"The negativity I experienced in pursuing my dreams only served to increase my determination. I believe the difficulty I had helped me be far more empathetic as an instructor."
His blend of determination for self-improvement, deep understanding of the physical and mental skills necessary for success on the slopes, and his desire to inspire others to fulfill their dreams has made Chalky one of the world's most renowned ski instructors.
For more on the appreciation clients have toward Chalky, read the comments at the following link: http://the7secretsofskiing.com/about-chalky-white.php.
About Chalky White
For many years, Chalky White has been a professional ski instructor who is highly regarded for being able to help develop balance and confidence in beginners and take intermediate and advanced skiers to new heights. Through his business, Seven Secrets International Ski Services LLC, he has taught students in the Alps, New Zealand and the Rocky Mountains in Colorado, where he is a longtime member of the esteemed Vail and Beaver Creek Ski School. Since 2011, his book, "The 7 Secrets of Skiing," (http://www.the7secretsofskiing.com), has been at or near the No.1 best-seller for ski books on Amazon. White is a sought-after inspirational/motivational speaker on his specialty subject of ski technique and his keynote, "The Calculated Risk Factor – What a wonderful World - If you Don't Quit!"