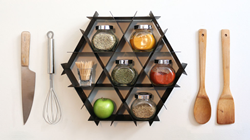 ...It seems impossible for something so light to be so strong.
Tel Aviv, israel (PRWEB) November 06, 2014
Industrial designer Ruthy Shafrir is the creator of the Ruche shelving units, a beautiful eco-friendly storage and display unit with a geometric shape and an isostatic structure that grants it incredible stability and strength. Ruche shelving unit comes in 3 sizes to fit many different types of objects and can be used in living rooms, kitchens, bathrooms bedrooms and more. It aims for a competitive pricing, not making any compromise on smart design and high quality manufacturing.
Meaning beehive in French, The Shape of the Ruche derives from geometric structures in nature. The hexagon and triangle shaped cells contribute to an original and appealing look and a very strong structure, allowing low wall thickness and therefore extremely light weight. "I was surprised to see a really thin package, I couldn't believe that 5 minutes later I would place a beautifully designed piece of furniture in my living room." said one of the first Ruche testers.
The shelving units are available in two different materials, aluminum or cardboard, both recycled and recyclable. Recycling scrap aluminum requires only 5% of the energy used to make new aluminum, while recycling cardboard battles deforestation and species extinction. Delivered in an easy-to-carry flat package that reduces carbon footprint and shipping costs, Ruche is smartly crafted so that assembly is very simple and quick, requiring no tools or means of joining.
Launched this week on Kickstarter, Ruth hopes she could get her shelving units to replace poor quality graceless furniture in homes worldwide and use design in order to make happier people.
For further information and press material: info(at)rucheshelving(dot)com