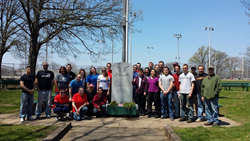 Annapolis, MD; Philadelphia, PA; San Diego, CA (PRWEB) November 05, 2014
The National Day of Service, a large-scale service event held bi-annually by the Travis Manion Foundation, honors our nation's fallen heroes by serving the local community in their honor. Last April, more than 175 volunteers participated in the first ever National Day of Service across four locations around the country. This year, on the Saturday closest to Veteran's Day, over 300 volunteers throughout the country will participate in the Travis Manion Foundation's National Day of Service events.
National Day of Service events will take place in Philadelphia, Annapolis, and San Diego, to include beautification projects at local parks, playgrounds, and beaches. Activities throughout the day will include trash and debris removal, repairing eroded pathways, cleaning playground equipment, and planting flowers.
About Travis Manion Foundation
The Travis Manion Foundation is a qualified 501(c)3, founded shortly after the death of 1st Lt. Travis Manion in Iraq on April 29, 2007 by the fallen Marine's mother, the late Janet Manion. Her goal was to empower our nation's veterans and support other family members of the fallen, to ensure that our nation's heroes are never forgotten. The powerful words Travis spoke before leaving for his second and final deployment to Iraq – "If Not Me, Then Who..." – have inspired a national movement that is growing rapidly. The Foundation challenges veterans and families of the fallen to lead the "If Not Me, Then Who…" movement, and inspires others to continue the service to community and country exemplified by the nation's fallen heroes.
WHAT: Travis Manion Foundation National Day of Service – Annapolis Beautification Project at Truxton Park.
WHEN: Saturday November 8th, 2014, from 8am to 12pm
WHERE: Opening Ceremony – Truxton Park, 273 Hilltop Lane, Annapolis, MD 21403
WHAT: Travis Manion Foundation National Day of Service – Philadelphia Beautification Project along Frankford Avenue Commercial Corridor.
WHEN: Saturday, November 8th, 2014, from 10am to 2pm
WHERE: Opening Ceremony – St. Mark's Church,
4442 Frankford Avenue,
Philadelphia, PA 19124
WHAT: Travis Manion Foundation National Day of Service – San Diego Beautification Project at Truxton Park.
WHEN: Tuesday November 11th, 2014, from 8:30am to 1:30pm
WHERE: Cardiff State Beach - Seaside Reef Parking Lot S Coast Highway 101, Solana Beach, CA 92075