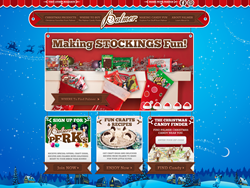 Reading, PA (PRWEB) November 06, 2014
R.M. Palmer Company, one of the top 80 confectioners in the world, announces the launch of a Christmas website featuring eight new products plus recipes and crafts to brighten holiday celebrations.
Several of the new products make ideal gifts and stocking stuffers, including a trio of Tuff Trucks and a chocolaty Fun N' Games Maze that kids can play and eat. A Sno-Fun mesh bag with 4 ounces of foil-wrapped snowballs is another new gift item, along with a line of 3-ounce decorated Double Crisp Reindeer, Snowman, Penguin and Bear Christmas Pops. A 4.5-ounce peppermint Bark Bar features puppies dressed up for the holidays on the wrapper, making it a great gift for dog lovers and a sweet addition to any holiday package or gift.
Mint Cookie Patties are the company's newest candy dish treat. The dark chocolate flavored patties offer an irresistible mint cookie crunch and are wrapped in festive foil for holiday gift giving and entertaining. In addition, Palmer has released bulk bags of two new candy mixes for the 2014 holiday season. Santa's Merry Mix, available in a 48-ounce bag, combines a number of Palmer holiday classics: PB Cups, Fudge Bells, Crisp Christmas Balls and Chocolate Flavored Santa's Helpers. A 26-ounce bag of Caramel Mix featuring Caramel Bells, Kringles and Santas is also making a debut this season.
All of the new offerings are featured on Palmer's 2014 Christmas website, along with new recipes and crafts designed for value-conscious, time-strapped families. Palmer's elves have whipped up a peppermint cheesecake dip featuring the new peppermint Bark Bar, candy cane cupcakes featuring Palmer Candy Cane Cups, and a mint pie made with the new Mint Cookie Patties. Recipes for chocolate snowball cookies and hot chocolate dipping spoons are also new to the site.
New holiday crafts found on the site include a festive garland made with Mint Cookie Patties, adorable elves made from toilet paper tubes, snowmen made with the new Sno-Fun mesh treat bag, and nutcracker and gingerbread candy holder gift cards. Following Palmer's tradition of making holidays fun and affordable for families on a budget, every craft and recipe on the site costs less than $10 to make.
ABOUT RM PALMER COMPANY
R.M. Palmer Company has been crafting fun, seasonal chocolate novelties since 1948. Today, the R.M. Palmer Company is one of the top 80 confectioners in the world, with more than $165 million in annual sales and is the 21st largest confectioner in North America (according to candyindustry.com). From their headquarters in West Reading, PA, Palmer's 850 dedicated employees design, produce, package and ship more than 500 unique items to nearly 100,000 retail locations in North America - making Palmer one of America's largest and most innovative confectioners. For more information about R.M. Palmer Company, visit http://www.rmpalmer.com.