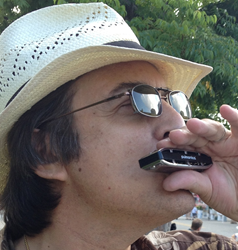 Whether you're a harmonica player who wants to exercise their lungs or somebody who simply wants to improve their breathing in an enjoyable way, the Pulmonica is a very cool instrument.
Sarasota, FL (PRWEB) November 20, 2014
After attending the recent 2014 Society for the Preservation and Advancement of Harmonica convention, Dana Keller, PhD, asked several musicians what they thought of adapting a harmonica for pulmonary therapy. The newly introduced Pulmonica is low-tuned Pulmonary Harmonica that produces deep, resonant, meditative sounds that can be felt vibrating in the lungs and sinuses. No musical talent is needed – just breathing through the Pulmonica always sounds soothing. "Wind instruments, especially harmonicas, have long been known to promote belly breathing (also referred to as abdominal or diaphragmatic breathing), but not everyone can learn to play a wind instrument," said Dr. Keller, inventor of the Pulmonica.
P.K., a professional harmonica player, wrote, "After hearing the Pulmonica being played, I decided to pay the $100 and start playing it myself. I used it to work my lungs before every show as well as often as I can. The Pulmonica really gives my lungs a good work-out and my playing has improved greatly since I've begun using. The ultra-low notes really do a great job of helping to concentrate on my breathing. I've even managed to get a fairly passable didgeridoo sound out of it.
Whether you're a harmonica player who wants to exercise their lungs or somebody who simply wants to improve their breathing in an enjoyable way, the Pulmonica is a very cool instrument."
N.A., another harmonica player, added in an online review, "It sounds great, a bit of a richer and deeper sound than any harmonica I've tried. When you play it, it requires that you take deep breaths. I find that using this reminds me to breathe from my diaphragm, and when I do, it does increase my energy. This is a very well-built instrument that sounds great and does really seem like it can deliver on the therapeutic benefits of strengthening lung capacity."
D.M., a long time professional trumpet player from Australia, said in an interview: "The Pulmonica is very similar in looks to a standard harmonica, but that is where the similarity ends. The Pulmonica has a very much lower range with the reeds. And the benefit is the lower the vibrations the more you can feel the vibrations in your lungs. If you have a little bit of lung or chest congestion you could almost feel the vibrations loosening it and at least stimulating the tissues of your lungs.
DM continues, "I find the last thing in the evening, as I'm getting ready for bed, sometimes I walk around my house and just blow a few notes very gently and it's almost like a Zen effect. It enables the systems to shut down very naturally - it has what I call a melatonin effect. Just walking around and blowing clears the head, and afterwards I sleep like a baby."
Joe Vitale says on the website, guitarmonks.com/invoking-divinity/, "A Pulmonica is a special harmonica tuned in such a way as to help people with asthma and other breathing problems. It's made so it takes more wind to play, not less, which trains people how to breathe more deeply. And the deep, resonating sound it creates helps loosen blocks in lungs. I bought one and was mesmerized by the unusual music it makes. It is deep, and stirring. It's almost like something you'd hear in an ancient cathedral where magic awaits all who enter. When I recorded with the Pulmonica, we created a track that somehow distorts time. Every time we listen to it, we disappear. Time stops. Even though that one track is five minutes long, we listen and feel like it's only thirty seconds long. We simply drop all thought. All stresses melt away. We are "at one" with the essence of life. It's instant stress relief. Imagine it…"
Dr. Keller concludes, "Long, slow, deep, and complete breathing is all that is needed to benefit from using a Pulmonica. That's a new twist on an old instrument, and musicians and non-musicians both seem to like the concept and the sounds the Pulmonica produces." Learn more at http://www.pulmonica.com.