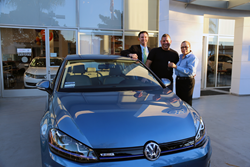 "I visited the dealership about a month ago and the staff was very knowledgable about the eGolf, which secured my interest in the car."
Santa Monica, CA (PRWEB) November 10, 2014
Volkswagen Santa Monica, a proud member of the LAcarGUY family of dealers is excited to announce that it has sold the first Volkswagen e-Golf in the United States.
LAcarGUY has a strong commitment to the environment, and that is why it is one of the leading dealer groups in the nation when it comes to selling hybrids, plug-in's and clean diesels.
Volkswagen Santa Monica continues in that tradition, offering not only the Volkswagen TDI clean diesels, but now selling and delivering the first e-Golf, Volkswagen's first pure electric vehicle.
The Volkswagen e-Golf has class leading 126MPGe in the city, 105MPGe on the highway and a combined rating of 116MPGe. Official range for the e-Golf is 83 miles, however range can be further, depending on driving style and conditions.
The e-Golf can be recharged to 80% capacity in 20 minutes with a Fast Charger, or less than 4 hours with a standard 240 charger.
"I've driven an electric car for the past three years and range has never been a problem for me", said Sabri Sansoy, the first e-Golf owner in the U.S., "In my search for a new car I test drove all the current electric cars and found the e-Golf to be the best in terms of price, looks, handling and cargo space. "
"VW has always been a part of our family." Sabri continued, "My parents first car was a VW Karmann Ghia, and in the later years we had a VW wagon we took on many memorable road trips"
On why he came to Volkswagen Santa Monica, "I visited the dealership about a month ago and the staff was very knowledgable about the eGolf, which secured my interest in the car."
"We are really excited about the launch of the Volkswagen e-Golf" said LAcarGUY owner Mike Sullivan, "Volkswagen is "The People's Car", and with the e-Golf, we now have an electric car for everyone"
Volkswagen Santa Monica was pleased to have John Frank from Volkswagen North America with us to help deliver the first e-Golf, you can view that video on our YouTube page:
http://youtu.be/Dqsu1_bjDzI
Volkswagen Santa Monica and LAcarGUY are excited to once again lead the way in offering the next generation of vehicles that make no compromises in utility, safety and comfort while at the same time also also being environmentally conscious.
# # #
LAcarGUY offers automotive products and services to our greater Los Angeles area customers. The company carries a comprehensive line of vehicles by Volkswagen, Toyota, Scion, Subaru, Audi, Lexus and Porsche, providing new and used cars featuring hybrids, TDI clean diesel and other industry-leading alternatives. LAcarGUY counts the nation's top selling Toyota and Lexus Hybrid destinations as part of its family of dealerships. They also offer trusted car repair, original car parts, and financing as well two dedicated body shops.