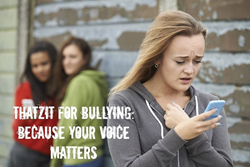 You never know what that one 'little' thing you said can do to someone, so let's make that one thing you say kind.
Woonsocket, RI (PRWEB) November 06, 2014
Bullying is defined as unwanted, aggressive behavior among school aged children that involves a real or perceived power imbalance, according to StopBullying.gov. About 28% of children grades 6-12 will experience bullying, and 70% of young people report witnessing it. Bullying leads to anxiety and depression. It can also cause children to disengage with activities and school work. In some cases, it may even lead to suicidal thoughts or actions.
Bullying has a tremendous impact in today's society and it can affect anyone. In honor of National Bullying Prevention Month, the makers of ThatZit! All-Natural Acne Treatment decided to take action against it.
The ThatZit! for Bullying campaign launched in mid-October to provide an outlet for teens to voice their opinions on how we can end bullying. Over the course of two weeks, young minds from around the world gave their input on bullying prevention, awareness and response. Many of them discussed from personal experience, and commented with passion. Several participants engaged in important conversations on the role of teachers and parents, who is most likely to be targeted, and standing up for yourself.
Ohio teen Bree Mitchell left a particularly touching comment, saying, "Bullying isn't something that just happens in movies and books. It's a real problem that many kids encounter on a daily basis, and it can become dangerous if it isn't stopped. Learn how to put a stop to bullying by taking immediate action, knowing where to go for help, and setting a good example for others." She also suggests that victims not engage with bullies, in person or online. Instead, she recommends involving an authority figure if the interaction feels threatening, and tightening privacy settings to prevent cyber attacks.
"You never know what that one 'little' thing you said can do to someone, so let's make that one thing you say kind," says Gabriela Feener, who spoke in favor of practicing kindness and tolerance.
We also heard from a mother of a young boy who is a victim of bullying. "My son has a speech problem and he is only 6 years old, and almost everyday on the bus he got smacked, hair pulled, name calling..." Leann Murnahan shares. "What a young age to have to deal with this. It shouldn't matter color of skin, tattoos and piercings - stop the judgments and we can stop the bullying. If we have nothing nice to say, we shouldn't say it at all."
To honor more than 1,300 people who fueled the ThatZit! for Bullying campaign, ThatZit! is proud to donate to The Bully Project. This is an anti-bullying movement to empower students and changing the culture of bullying into one of empathy and action.
"The response to this campaign has been overwhelmingly positive," shares Kate Brierley, Community Manager for ThatZit! Acne Treatment. "It is our intention to provide an outlet for teens to voice their concerns and ideas about bullying. These young folks blew us away with their thoughtfulness and desire to facilitate change."
ThatZit! thanks everyone who let their voice be heard, and spoke up against bullying.
About ThatZit!
ThatZit! All-Natural Acne Treatment is a product of Aidance Skincare. Aidance is a Woonsocket, RI based company that provides all-natural therapeutic skincare remedies to customers and physicians in more than 150 countries. ThatZit! features patented Activated Minerals Technology to target breakouts and stop them quickly, without drying skin. For more information, please call 877-424-3262 or visit http://www.ThatZitforAcne.com.