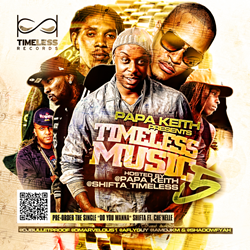 Miami, FL (PRWEB) November 04, 2014
Coast 2 Coast Mixtapes announce the release of the "Timeless Music 5" Mixtape hosted by Papa Keith and Shifta Timeless. The 58 track project is currently available for download. The mixtape features appearances from Bobby Shmurda, Gunplay, Rick Ross, Young Thug, YG, Rich Homie Quan and many more. "Timeless Music 5" is produced by DJ Bulletproof, DJ Marvelous, DJ Fly Guy, DJ KM and Shadow Fyah.
Born and raised in Brooklyn, New York, Papa Keith began his career working in hip-hop and reggae clubs. After building himself a name, he was offered a position on Miami's notorious Mixx 96 radio station. With the help of his radio show "Daddy's Home" from 2-6pm daily, Papa Keith uses his infectious personality and extensive experience to relate to a wide variety of listeners. He is immensely proud of his Caribbean heritage and incorporates this not only in his show, but also in this new mixtape. Papa Keith is known for his dedication and outstanding talent as a radio personality and in commercial voice-overs. As the Miami New Times has said, "Papa Keith is the man who takes you home smoothly and safely, easing the stress of the day with hip-hop and humor."
Shifta was born in Jamaica and migrated to Miami to continue his musical career. His father, Daddy Fras, aka Piper of Piper Record, was a major influence in getting Shifta involved in hip-hop at a very young age. With his magnetic personality and unique style, Shifta grasps the attention of viewers both online and internationally. Growing up, he was majorly influenced by the dancehall/reggae music that is prevalent in JA. Shifta brings that caribbean/reggae twist to his songs on this mixtape, adding a relaxing island vibe. Shifta has already performed in many concerts and television programs worldwide, expanding his fan base well into the thousands.
"Timeless Music 5" is a collaboration of reggae, rap, hip-hop, and R&B with flawless transition between every song. Papa Keith and Shifta include many famous artists in their latest mixtape, sure to entertain the existing fans and also coerce others. Full of radio favorites and underground secrets this mixtape is everything you need for a road trip, club, or just chillin' at home. Keep up with both Papa Keith and Shifta on their twitters at @Papa_Keith and at @shifta_timeless.