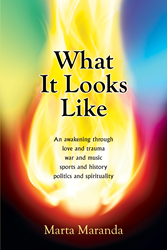 TAMPA, FL (PRWEB) November 05, 2014
In her new memoir, "What It Looks Like," author Marta Maranda takes readers on a journey of healing and self-discovery that began with a voluntary stay in a five-week residential treatment center, despite not having the substance or behavioral addictions widely associated with rehab.
"I've been asked, 'How does a woman who doesn't drink, smoke, use drugs, have destructive sexual patterns—never even had a cup of coffee in her life—end up in rehab?' '' she says.
"I checked in one week after my former husband checked out because I finally realized that everyone is responsible for understanding his or her part in any dysfunctional relationship, whether personal or professional. The clinic was where my self-discovery began."
A writer by nature and journalist by training, she recounts life in an addiction treatment center from a rare perspective: that of a sober, self-admitted patient.
"Because I was sober and checked in voluntarily, my observations and interpretations of the recovery process were likely very different from those who arrived under other circumstances," she says.
"I learned that the tools and teachings of recovery are universal, not just for addicts. The truth is, none of us gets through this life without some form of trauma. In fact, the earth has been called the boot camp for the soul; where we learn our lessons, pay our dues, right our wrongs. Ultimately, all of life is a quest for healing."
An unhealthy childhood that included sexual abuse led to adult behaviors that she didn't understand. But self-discovery and healing her personal trauma were only part of her journey, she says.
"Rebuilding a life is as much a cycle as a process. We take our internal healing out into the world to make better choices, then use those healthy external choices to further support our internal healing. Understanding that every individual choice affects everything and everyone else, I applied what I learned in the clinic globally and through a historical perspective to events occurring at the time, which included the Iraq and Afghanistan wars, to better understand the world I live in."
She devotes a section of "What It Looks Like" to a provocative exploration of current and historical consequences and connections.
"Whether politically, spiritually, or personally, I could always unravel the consequences of the present by looking at the foundations we—as individuals, families, communities, and nations—had laid in the past, and through the eyes of truth, accountability, authenticity, and openness."
About Marta Maranda
Marta Maranda is a writer and businesswoman, and still seeks to do the work of healing the best she can every day. She holds a bachelor's degree in communications and undertook a year of post-graduate study in psychology. She hopes her story will be helpful to others as they make their way toward healing. She is currently working on her second book. For more information visit her website at http://martamaranda.com/.