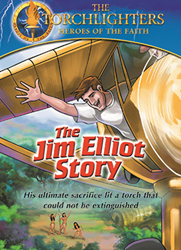 CEO, Roan Saunders. "We are very supportive of entertainment that is action-packed, educational, and enlightening. These films certainly deliver entertaining adventures and we couldn't be happier to make them available to our customers."
Frederick, Maryland (PRWEB) November 05, 2014
IAMflix has acquired approximately 600 titles from Vision Video for streaming on the family-friendly, video-on-demand service. This month IAMflix.com has uploaded the popular film series called The Torchlighters: Heroes of the Faith. These films are not only award winning children's videos but they are a source of inspiration for everyone who watches them", said CEO, Roan Saunders. "We are very supportive of entertainment that is action-packed, educational, and enlightening. These films certainly deliver entertaining adventures and we couldn't be happier to make them available to our customers."
Some of the titles available for viewing now are: The Augustine Story, The Perpetua Story, The Eric Liddell Story, The Samuel Morris Story, and The William Booth Story. Two of the most popular and inspirational tales are those of John Wesley and Jim Elliot. The John Wesley Story is about the struggles and triumphs that John encountered in his lifetime. He was miraculously saved from a burning fire as a child and was inspired to serve God as he grew older. His idea of serving God was to utilize his own strength and good works but that only led to failure. After years of struggles, John Wesley embraced God's plan and preached to the needy and outcast.
The Jim Elliot Story describes Jim's adventure in faith from his college years to his work in the jungles of Ecuador. He leaves a tremendous legacy of service to God by sharing his faith with the remote Auca tribe. This tribe would one day take the lives of Elliot and four other young Americans but the story of compassion and love lives on in Jim's legacy.
IAMflix viewers can watch these films in addition to the entire movie library for as low as $5.99 a month and all customers get a free month trial with their subscription. Viewers can also choose to watch any film on a pay-per-view option starting at $1.99. IAMflix.com customers can stream documentaries, Christian films, television shows, children's programming, and inspiring movies all for one low price.
IAMflix: Watch the movies you want, when you want, where you want, and as often as you want! IAMflix is committed to reaching a worldwide audience that prefers entertainment products with a wholesome themed message from one convenient source. For more information about IAMflix, log on to http://www.IAMflix.com or email info(at)IAMflix(dot)com. If you have produced any films that IAMflix may be interested in streaming please contact CCosner(at)IAMflix(dot)com or call 301.992.4430.