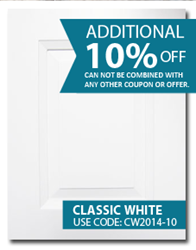 Classic White Kitchen Cabinets is the key of the newest kitchen trend.
Orange, CA (PRWEB) November 06, 2014
"White hot" is the newest trend in today's kitchens. White is Classic, and it will probably last forever. It is the perfect pairing for any kind of counter top, floor or wall color. CabinetDIY reveals their newest white kitchen cabinet, Classic White; The perfect combination of a classic door style and modern functionality.
Remodeling a kitchen successfully within budget in a timely manner is no easy task. CabinetDIY eases this stress with pre-assembled kitchen cabinets and home delivery. CabinetDIY is happy to announce the recent addition of new cabinet style "Classic White" to their online store.
The Classic White kitchen cabinets were inspired by the classic and elegant style of modern living. It's clean and sophisticated door design, provides an elegant appearance with full functionality. The Classic White style is perfect for homeowners that are looking to upgrade their kitchen functionality but still keep the classic appearance. The frame and door of the cabinet is made out of solid maple wood. The white color was carefully applied in matte satin finish. It is triple coated to improve scratch resistant. The drawer slide is under mounted and with smooth soft close function. The door hinges mounted with soft close adapter. There will be no more slamming and shutting door sound breaking the harmony of the house.
As a leading Ready to Assemble (RTA) kitchen supplier, CabinetDIY always keeps great stock in their warehouse. All the kitchen cabinets they carry have matching vanity cabinets for bathroom projects too. CabinetDIY provides efficient service to their customers and lead time ranges from about 2-3 weeks. Their cabinets come with optional pre-assembled or un-assemble form. Order will ship straight to their customers' doors. Free nationwide shipping is offered for any order greater than $1,800.
For more information on the new Classic White Cabinet Style or Ready to Assemble (RTA) Kitchen Cabinets please visit CabinetDIY at http://www.cabinetdiy.com.
To require free professional kitchen design service. Please visit CabinetDIY Design 1,2,3 at http://www.cabinetdiy.com/style123/measureit
To request free cabinet samples. Please visit CabinetDIY free sample page at http://www.cabinetdiy.com/product/sample
About CabinetDIY
CabinetDIY was founded by a group of passionate interior designers and professional cabinet makers in 2004. It is our passion to assist our customers to design and build their dream interior projects. Any customer can find the perfect cabinet style to easily suit their taste on CabinetDIY.com. Our service facilities are located throughout the United States and all of our cabinets are carefully assembled, tested and packaged by skillful workers. Our service goal is to minimize the work load after our customers receive our products.
To request a free sample of our cabinets please go to http://www.cabinetdiy.com/product/sample or http://www.cabinetdiy.com to get a dream kitchen project started.